I wanted to write about Cayambe-Coca National Park. However, the truth is that I can't do it justice. With several access points and no safe way to transverse its grand 3,700 square kilometers (1,430 square miles), it's a park that begs to be treated like multiple destinations. Therefore, this will be the first article of many. I'm going to focus on a single entrance, not far outside of the capital city of Quito in the spa town of Papallacta.
Finding the Cayambe-Coca Entrance Near Papallacta
While the terrain of Cayambe-Coca National Park runs from the high moors to the low jungle, the entrance at Papallacta starts off as gentle rolling hills and farmland. The road is protected by a large, chainlink fence that is closed after hours. It's found at the backside of the Termas de Papallacta parking lot. Talk about hard to find! We only learned about it when we stayed the night at the hot springs.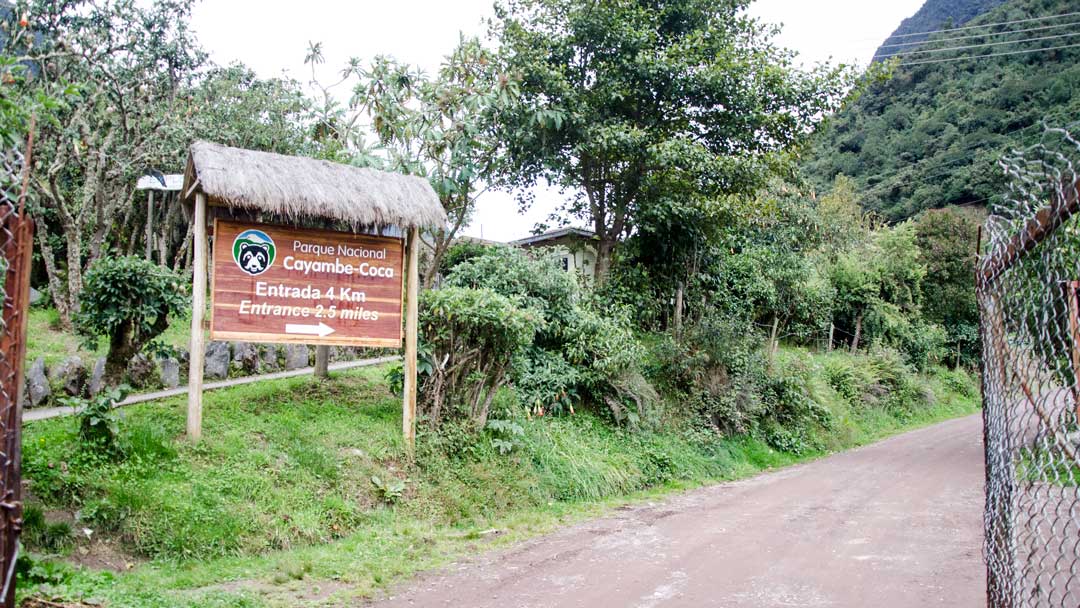 A Long and Winding Road 
Two and half miles doesn't sound like it should be a long and winding road. But weather conditions in this part of Ecuador are almost always poor. More on that below. Therefore, come prepared for poor visibility due to low lying clouds, dense fog, and heavy rain. If you are greeted with beautiful sunshine, then appreciate the rare weather!
The Official Park Entrance 
This road will take you to a ranger station tucked into this unique eco-system. Surrounded by high scrub, the ranger station is a small oasis in a wild reserve. It is the only place with bathrooms or to offer protection from the elements.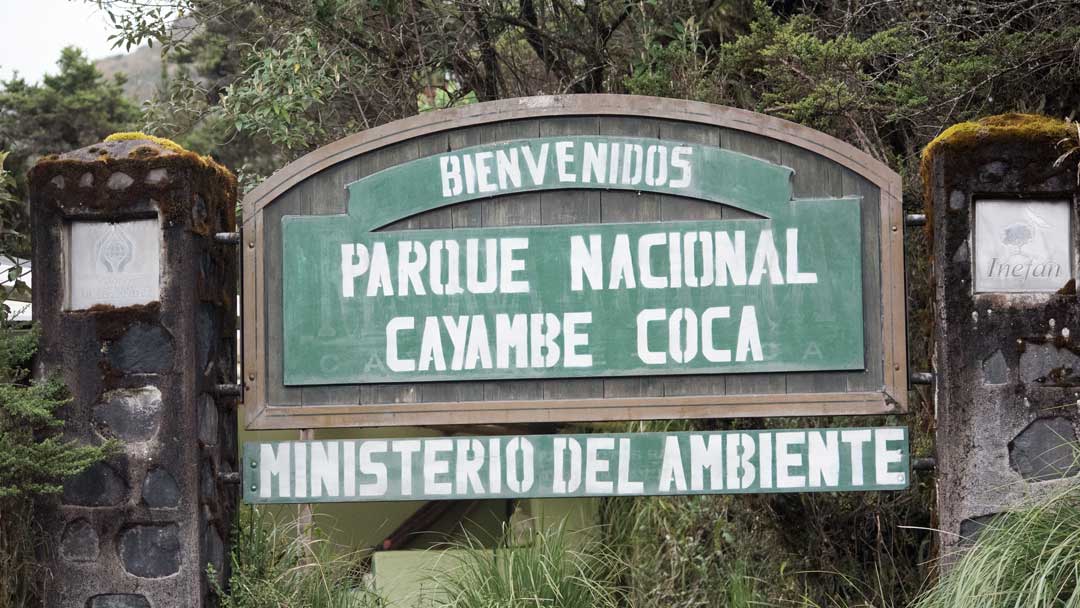 The ranger exists to prevent cars from driving further into the park without a permit. Supposedly, it is possible to drive from this point to Oyacachi near Cayambe and further onto San Rafael past Baeza. We've heard mixed reviews on the road conditions. Permission is rumored to be difficult to obtain. One of the roads also leads to a reservoir that provides drinking water to Quito.
Only a Few Visitors Are Allowed Each Day
Only 36 people a day are permitted to enter the park from this entrance. The high paramo is a very delicate eco-system. During our first trip, we saw about a dozen other people, all of them fishing in the high mountain lakes. On my second, we arrived late in the afternoon and no other cars were parked in the small lot. I don't think there is a danger of over tourism as of yet.
As far as we know, we were the only hikers on both days even though there are several trail heads that start at the small ranger station. The weather may have had something to do with it. Each time I have visited, the day brought low lying fog that easily turned to mist and rain. At times, we felt like we were crossing the moors of Scotland in a hunt for mysterious elk.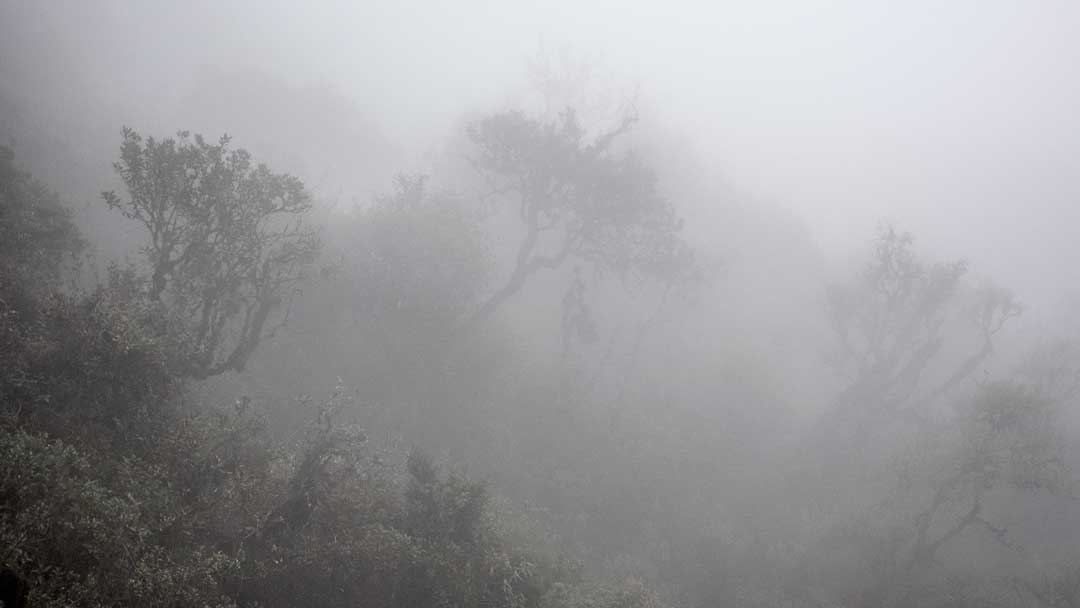 Hiking Cayambe-Coca National Park
On that first visit, we chose to hike the El Agua y La Vida Trail. It is really a dirt road that is blocked to large vehicles. We did have one 4-wheeler pass us on the trail but otherwise the path was quiet. We shared it with with a few Tawny Antpittas and nothing more.
Early on the trail there were a few places to explore – one particularly intriguing trail led to the base of a waterfall that we could see in the distance. It's on our to-do list for the another visit. But as we hiked further in the ground became muddier and the road was less a path than it was a bog. We passed beautiful mountain lakes that mirrored the gray cloudy sky.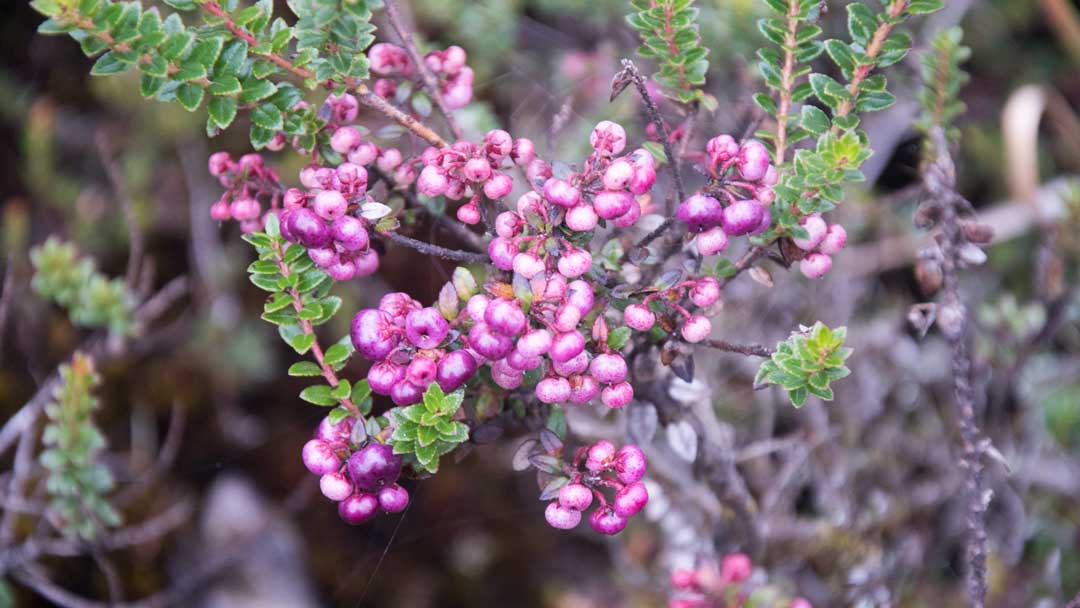 Persistent Rain
As the mist turned to rain, we decided that the hike was finished for the day. We came away with stark photos of high mountain lakes, pants covered with mud, and a desire to return to the sunshine.
At the ranger station, we asked about the persistent rain. Since it was so sunny in Quito, we expected more of the same. The ranger told us that when it's summer in Quito, it's winter in Cayambe-Coca. That didn't make sense. So he broke it down even more: if it's raining, it must be winter.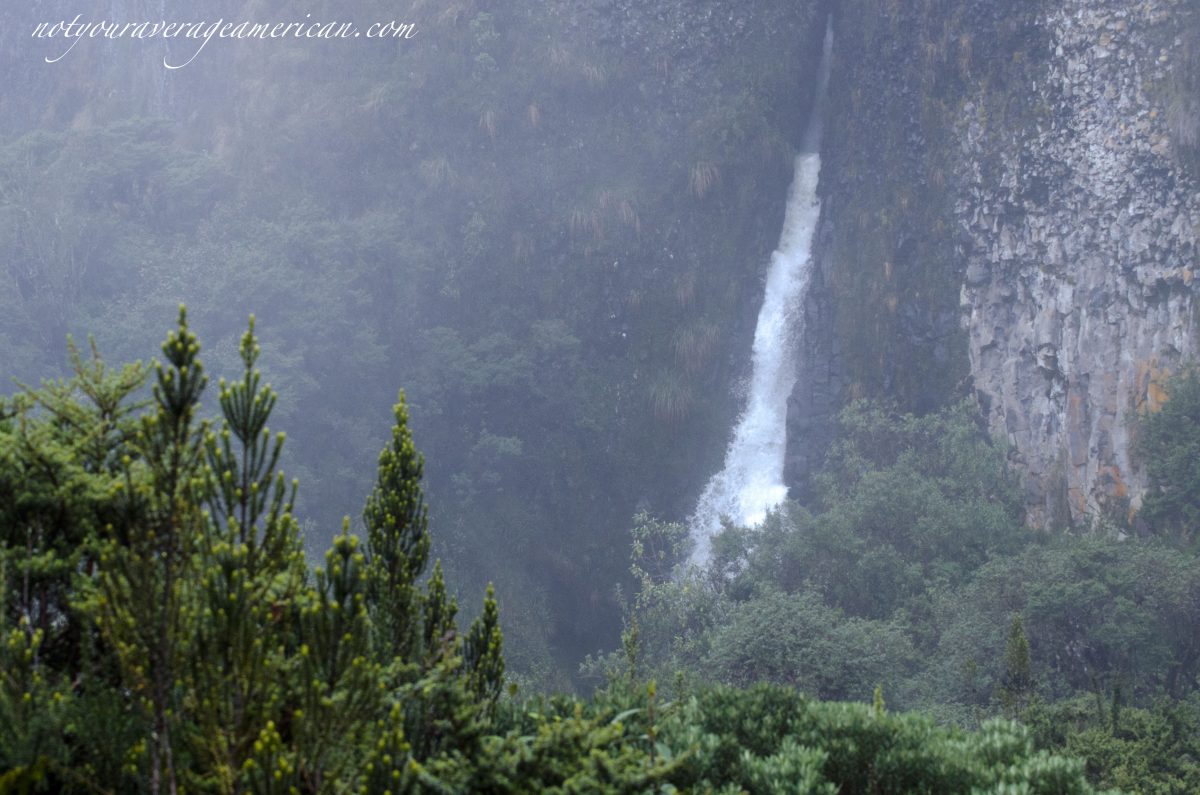 Life on the equator is full of conundrums like this. Although we'd like to believe it's winter because Cayambe-Coca is south of the Equator, Quito lies south as well. It most likely has to do with the rain patterns at different times of the year. The area around Papallacta often gets rain because it stands between the moist Amazon Basin to the east and the highest mountain pass before Quito, to the west. Rain, fog, clouds just get stuck on the mountain. It's one reason this region is full of waterfalls and pocket lakes.
No matter the reason, rain is a near constant in our experience. Bring your mud boots and your rain layers. You won't be sorry.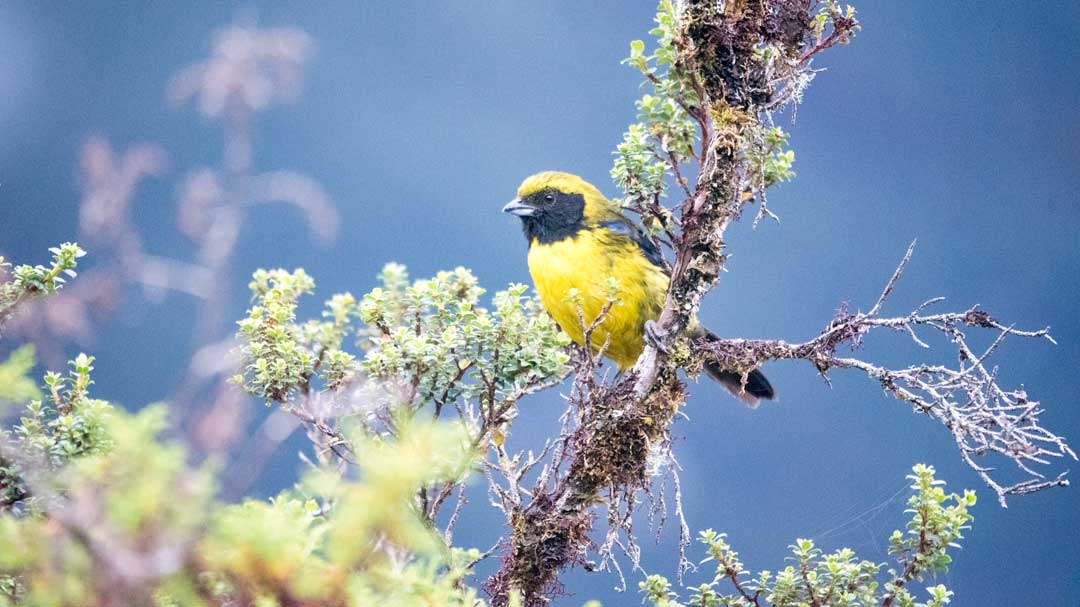 Birdwatching Despite The Rain
My second visit to the park was equally as wet if not more so. I arrived with two friends and a birding guide named Mauricio (we're working on getting him to sign up on our website). He told us that this is a great place to see birds. I had my doubts after my first visit. We arrived to low lying clouds, a light mist, and the sound of birdsong. Mauricio knew his stuff. While we hiked out one of the trails, our best birds were found very close to the ranger station itself. 
The picture above is of a rare Masked Mountain-Tanager. According to E-bird, it is only found on eastern slopes above 3000 meters and only in a few locations in the Andes. Talk about a lifer! I was very fortunate that this little fellow was anxious to move around and provide me with a perfect shot just as the mist lifted in the background. It was my only good bird photo of the afternoon. But it wasn't our only bird. Mauricio spotted many more birds that we enjoyed with our binoculars. I highly recommend hiring a birding guide if birds are your goal. This climate demands specialized knowledge of the flora and fauna.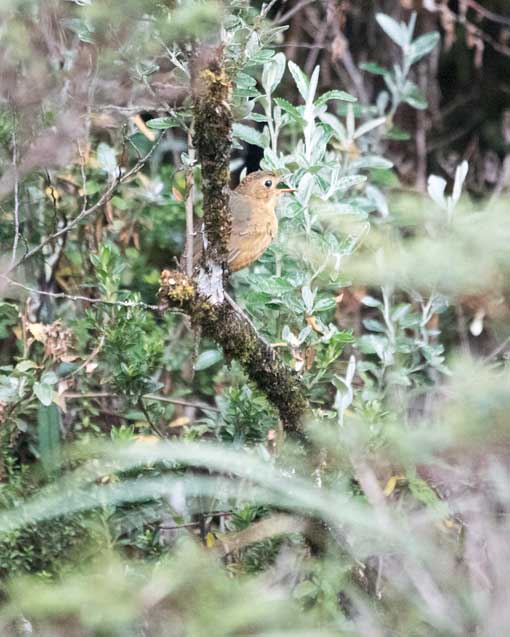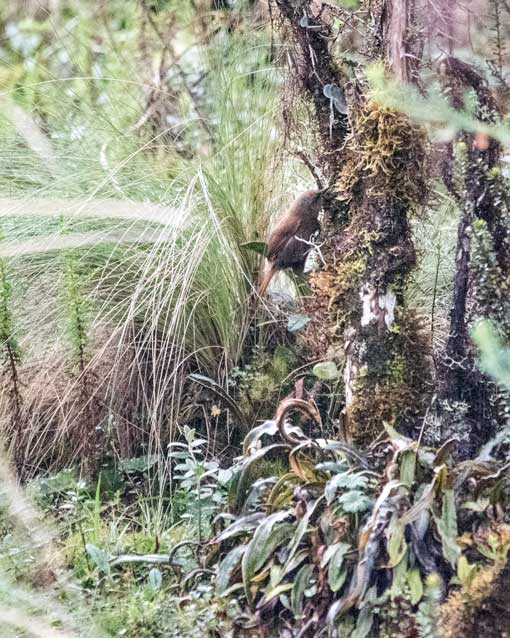 Information For Your Trip
Cayambe Coca National Park is only accessible by a dirt road. During the rainy season, this road can easily be washed out. We highly recommend using a 4-wheel drive or high clearance vehicle. If you drive a regular rental car, just take it slowly.
Direction by Car, use WAZE and look for Termas de Papallacta, Ecuador. The sign to Cayambe-Coca National Park is at the rear of the back parking lot.
Direction by Public Transportation There are no public buses to Cayambe Coca National Park at Papallacta. You could possibly hire a local taxi in Papallacta.
Ranger Station
Entrance Gate