The road to Laguna Mica leads from the small town of Pintag through the Antisana Conservation Area, a small part of the larger Antisana Ecological Reserve founded by the federal government of Ecuador in 1993. It is a beautiful, remote, and sometimes stark location. Low lying mist and fog can hover for days on end and the huge volcano guarding the tiny lake rarely peaks out from behind clouds.
The best time of year to visit the Antisana Conservation area is the dry season, approximately late July to about late September, with August just about guaranteed to be the best month. During this time, the Ecuadorian high Sierra experiences clearer skies than normal because winds scour the mountain tops, pushing clouds quickly past.
But weather is funny in this place. Summer can also mean huge thunderstorms. The cooler air in the Andes mixes with the hot, humid air of the Amazon Basin, creating storms full of lightening, thunder, hail, and torrential rain. These are different from winter storms in that they are usually short, only an hour or two, and pass quickly by.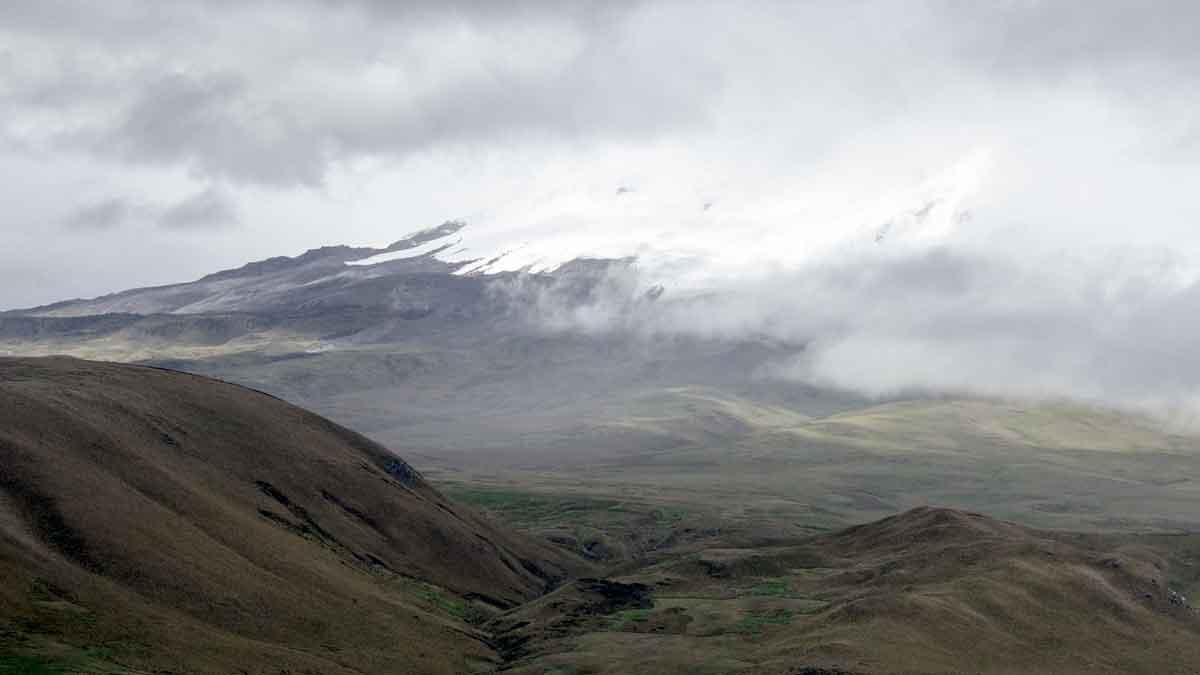 Past Pintag on the Laguna Mica Road
Just past the town of Pintag, the two lane road passes a working mine. The road near the mine is in horrible condition, due in large part to the heavily loaded dump trucks making multiple trips to and from Quito each day. If you drive this road mid-week or on Saturdays, expect to pass many of these trucks. More importantly, drive slowly to prevent your vehicle from bottoming-out in the potholes, divits, and ruts.
The mine is situated on a morraine of glacial debris and ancient lava. Rock from this location is being used to build the new metro stations. Plan on stopping just past the last mine entrance next to a small restaurant and tiny chapel. From there, you will be able to take a picture of the geologic formation.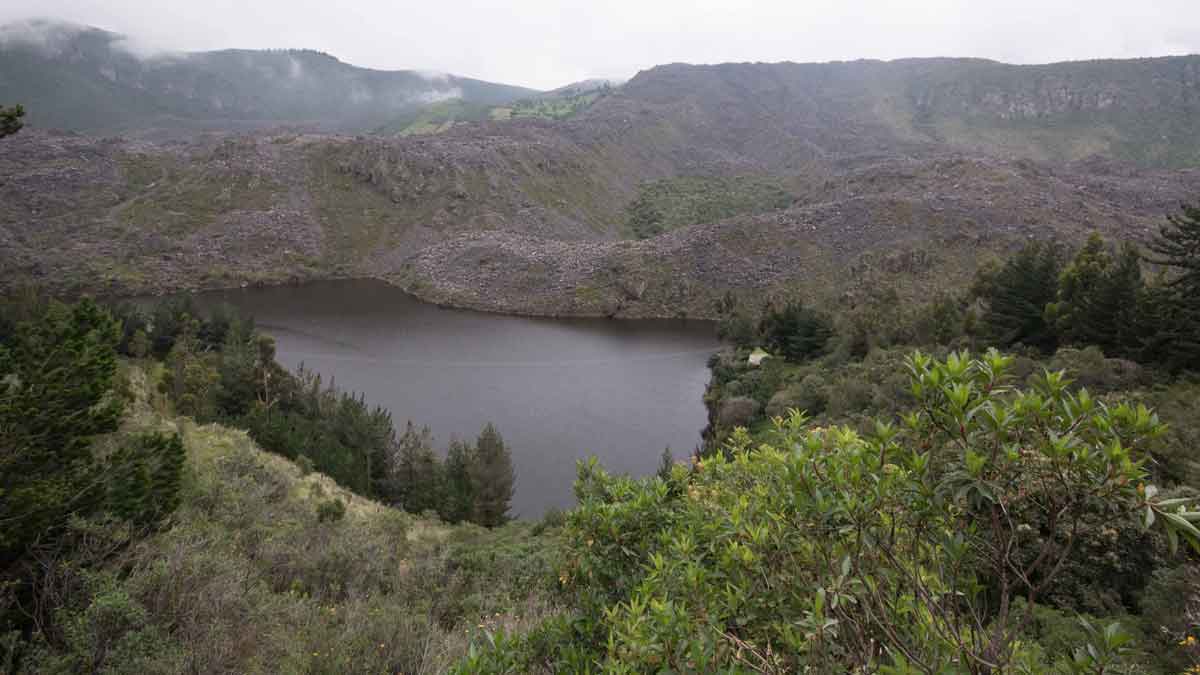 The lake that is formed behind this morraine is called Laguna de Secas. There are several points along the road to pull out and take pictures of the long, thin sliver of water. Keep your eyes open while doing so. Andean Condors could possibly be flying overhead. And the elusive Andean Spectacled Bear is known to eat the bromeliads growing on the steep hillsides bordering the water.
From this point, the road improves. In fact, it is paved for the most part. While you still won't have reached the actual conseravation area, you will pass a few small restaurants and hostels, the the viewing platform of the the Antisanilla Reserve, and finally the entrance to the working farm and hotel, Hacienda Guaytara.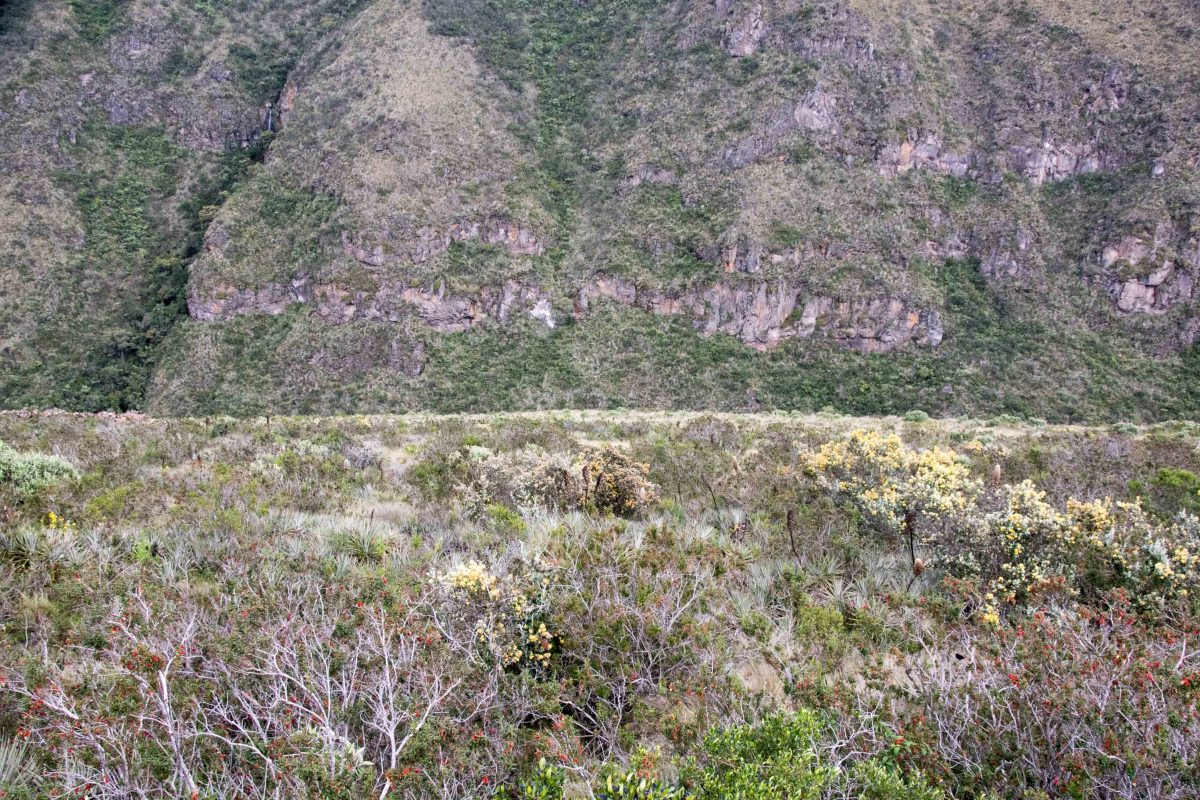 The Antisana Conservation Area
As you wind past the Hacienda Guaytara, the road climbs up out of the narrow valley. Looking back, the cliff where the Condors nest juts out in the distance. Green farm fields take over at this point; waving grasses are a reminder that cattle-raising is a big business in this sector, even today.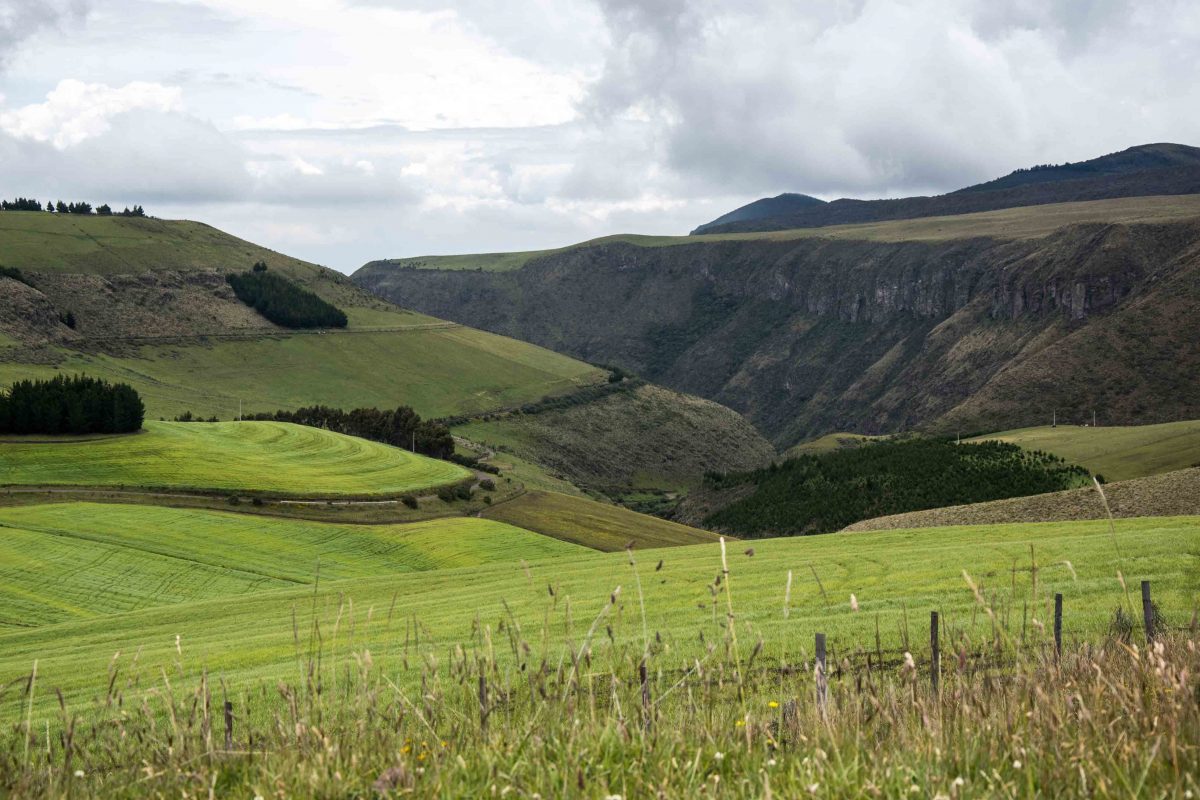 A little further down the road and a sign for the Antisana Conservation Area announces your arrival.
Now you just need to drive on, eyes wide open. The landscape will open up into an open plain of low lying grasses and scrubby ground cover. Start looking for birds. On both of my visits to this location, Caranculated Caracaras have dominated the landscape. Many of them stand immediately near the road, some on small hummocks, apparently posing for the camera.
On our last visit, we saw an Andean Condor fly direct over our car. And not flight hundreds of feet into the sky but only tens of feet. As he approached, we could see his head turn to look as we tried to snap his photo.
And if the weather is clear, be prepared for wonder. The huge mountain Antisana, the fourth tallest in Ecuador, holds court on sunny days. More likely, you will see just the slopes leading up to the snowy ridge and possibly catch a glimpse of the edge of a glacier. The rest of the mountain is usually shrouded in cloud and mist. Early mornings and late afternoons provide the best opportunities for a good look.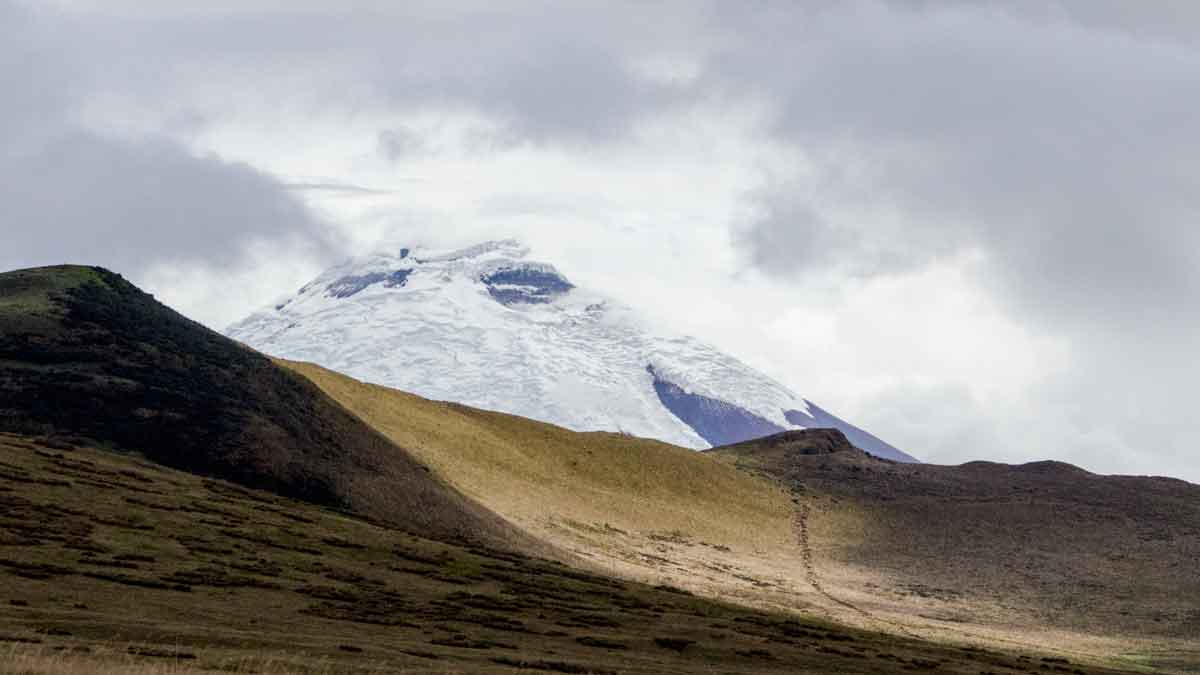 Laguna Mica
A little further and the land starts to change. The fields become wetter, boggier, and maybe just a little greener. In this area, keep your eyes open for the Andean Black Ibis. These birds are considered a sub-species of the Black-Ibis and this is one of the few locations in Ecuador where they are regularly observed.
If you are driving this road on a weekend or a holiday, you will have noticed that this destination is popular with local Ecuadorians. You are about to find out why. Laguna Mica is a reservoir that provides drinking water to thousands of Quiteños. Although lakes do is exist in the Andes, lakes as large as this one do not. A small dam does contribute to the size but that doesn't stop Ecuadorians from wondering at its natural beauty.
A small parking lot waits most visitors. If you or a guest are elderly or disabled, drive on up to the gate and the guard will let you enter and drive in. Otherwise, plan to hike. You will see a large hill with a trail. Most people head up that to the mirador on top. The climb is a little steep and those of us not used to hiking at altitude will definitely feel a tug on our heart and lungs. There are alternate trails that stay low and allow you to explore the lake from either side of the knobby hill but I do not believe those two trails connect.
Reserva Antisanilla
Reserva Antisanilla - el mirador de la plataforma junto a Tambo Cóndor.
Área de Conservación Antisana
El Área de Conservación Antisana (también llamada Reserva de Vida Silvestre Antisanilla)
Cóndor de Tambo
Recomendamos desayunar o almorzar en Tambo Condor. Este es un gran lugar para ver colibríes. También tienen un telescopio para que sea más fácil ver anidar cóndores andinos.
Información para su viaje
Si bien esta es una posible excursión de un día, no recomendamos conducir por esta carretera en la oscuridad. El amanecer y el atardecer son aproximadamente a las 6:15 am y pm durante todo el año. Dado que es probable que pierda la cobertura en estas carreteras, considere descargar una aplicación como Map.Me para mantenerlo en el camino correcto.
Dirección en auto, use WAZE y busque Reserva Antisanilla, Quito, Pichincha, Ecuador.
Dirección en transporte público Es posible llegar en autobús a Pintag, pero pasado ese punto, tendría que contratar a un conductor. Por favor, considere ponerse en contacto con la Fundación Jocotoco para organizar una visita guiada asequible en su lugar.