The dictionary definition of
hornado
sounds so plain.
Hornado: 1. m. Ec. Cerdo asado al horno. (Ecuadorian; Pork roasted in the oven)
It really should read something like:
Hornado: an Ecuadorian speciality; a whole, gutted pig slow roasted until the skin is extra crispy and the meat is super tender.
A Plate of Hornado
Hornado is usually served as a plated dish: roast pork with fried mashed potato cakes, mote (a dish of dried hulled corn that is similar to hominy from the Southern United States), and a salad of red onion and tomato. Ají is a common condiment. And this is all topped off with a piece or two of cuero, the crispy crackling skin from the Sunday roast that our family fights over.
The Best Hornado in Ecuador
If you spend any time traveling the backroads of Ecuador, you will definitely see at least one hornado stand, especially on the weekends. Often, a fresh pig carcass hangs on from a corner eave of an open restaurant in preparation for the oven.
We recommend trying hornado at least once… and if in Otavalo, we recommend trying it a little more often, especially if you can visit the small market stall of Rosario Tobango.
Her special recipe for roast pork has won her awards and hundreds of dedicated customers, some who lunch with her everyday. In fact, last year, Rosario won the award of Best Hornado in Ecuador.
¡El mejor hornado del Ecuador está en Otavalo! Rosario Tabango es la ganadora del #MundialDelHornado pic.twitter.com/6clSAYzTCU

— GamaNoticias (@Gamanoticiasec) August 17, 2014
And it isn't just the slow roasted pork that brings people back, but the entire package deal. The meat is juicy and tender, the mote and mashed potato pancakes are richly fried in pork drippings, and the simple side salad of tomato and red onion is made with the freshest of ingredients. Furthermore, her aji has a kick and flavor unto itself. And to top that off, the cuero served on top is so delicious that this non-crackling eater refused to give all of hers to her crackling-loving husband.
Best Deal in Town
The entire plate cost a whopping $3.00. For an extra dollar, you can have chitlins (all those pork pieces few people want to eat) and a sausage that isn't what it seems be. Although the filling is stuffed into pig intestines, it doesn't have any meat at all but is a combination of vegetables. All fried in more pork drippings. Yummy, indeed.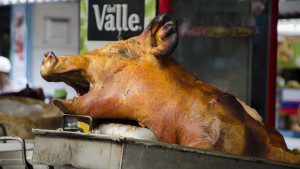 But be warned, some in your group will be wary of eating at this wonderful place. It is smack dab in the middle of the local market, surrounded by other food vendors, many selling hornado, including the large heads of roasted pigs, and others selling many versions of comida tipica, or local eats, to their fellow Otavaleños. There is hardly a tourist in sight. Nor a health inspector.
One of the reasons we chose the award winning booth in the first place (we had yet to learn of Rosario's fame) was that her food was set back from the bench and eating area so that fellow diners couldn't sneeze and hit food so artfully placed for easy viewing.
Since writing this article, the city of Otavalo has opened a brand new Mercado Municipal 24 de Mayo and Rosario Tabango has a restaurant there. This map should help you find it… if you go, please take a photo of Rosario and give us your best description of her new booth! We would love to share both on the pages of Not Your Average American.
Restaurant Rosario Tabango - World Champion Hornado
Google Maps does not have the street names but I have confirmed this location via Google Maps.
Market Stall of Rosario Tabango