It's not often that we find a birdwatching destination more popular with Ecuadorians than with international visitors. But that's exactly what we found just outside of Piñas, Ecuador. On Google Maps, this special place goes by the simple name Jardín de los Colibríes or the Hummingbird Garden. The land for this garden is a tiny part of the larger Jocotoco Foundation's Buenaventura Reserve. Hummingbird lovers and naturalists of all types will find it more than worthwhile to stop and visit, even if only for an hour or two.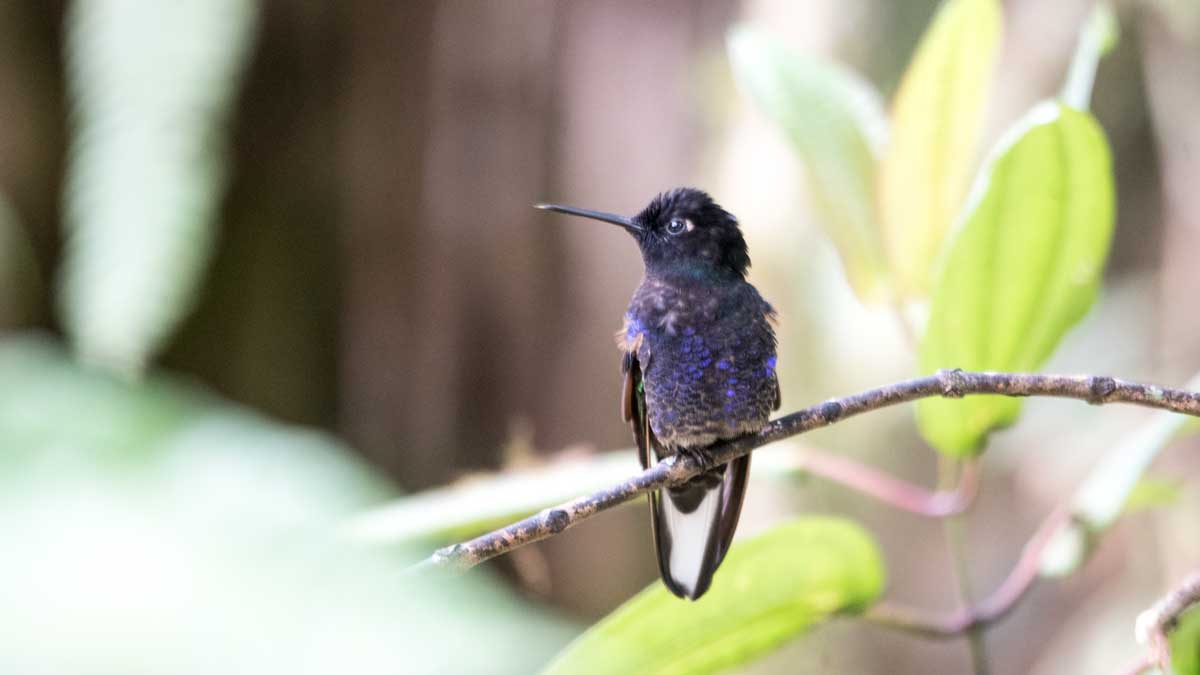 What to Expect at the Buenaventura Hummingbird Garden
Upon arrival, it might come as a big surprise that you are about to step into a nature reserve. The bright red gate with its simply marked sign, Hda. Buenaventura, signals that this land was once a working farm. Amazingly, with prior permission, it is possible to drive past the hummingbird garden up to the old hacienda and admire the magnificent views. Today, this land protects valuable nesting boxes of the El Oro Parakeet, a species in danger of extinction due to habitat fragmentation. You can read more about those parakeets in an upcoming article!
The property also includes land along the Piñas River. We noticed it right away as we walked from the parking lot to the entrance of the garden. To the right, there is a huge stand of trees on the farside of the river where the cry of howler monkeys sometimes reverberates in the early mornings and late afternoons. These monkeys can be hard, but not impossible to see, so keep your eyes and ears open!
To the left, a loop trail leads to the main attraction, the Hummingbird Garden. And while you might be tempted to rush along the trail and get to the final destination, we recommend taking your time.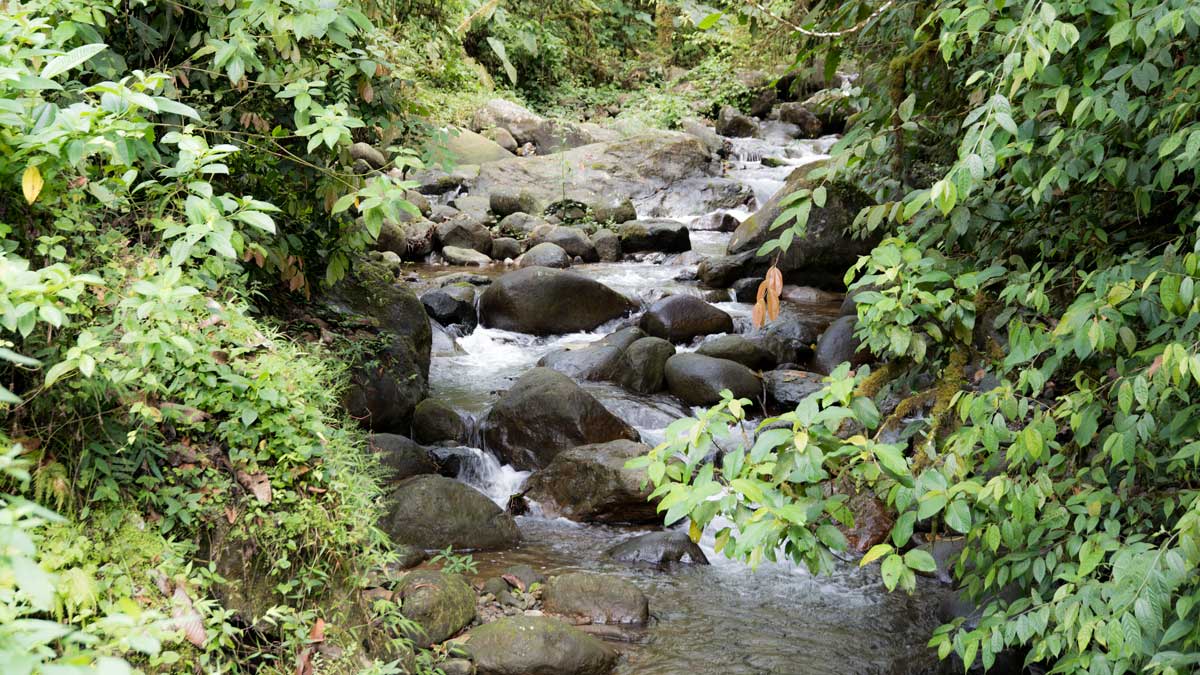 Along the Trail
The path is well-maintained and easy to walk, with some gentle changes in elevation. The distance is very short and easy for young children. While a sturdy stroller could manage the few steps along the trail, it is not yet wheelchair friendly.
The first part of the trail climbs next to the river, providing excellent views directly into the tree canopy. Keep your eyes peeled for tanagers, flycatchers, and maybe even a parrot or two hunting for ripe fruit. There are plantain feeders that might help attract more species into view. Unfortunately, on the two times we visited, the feeders held no fruit.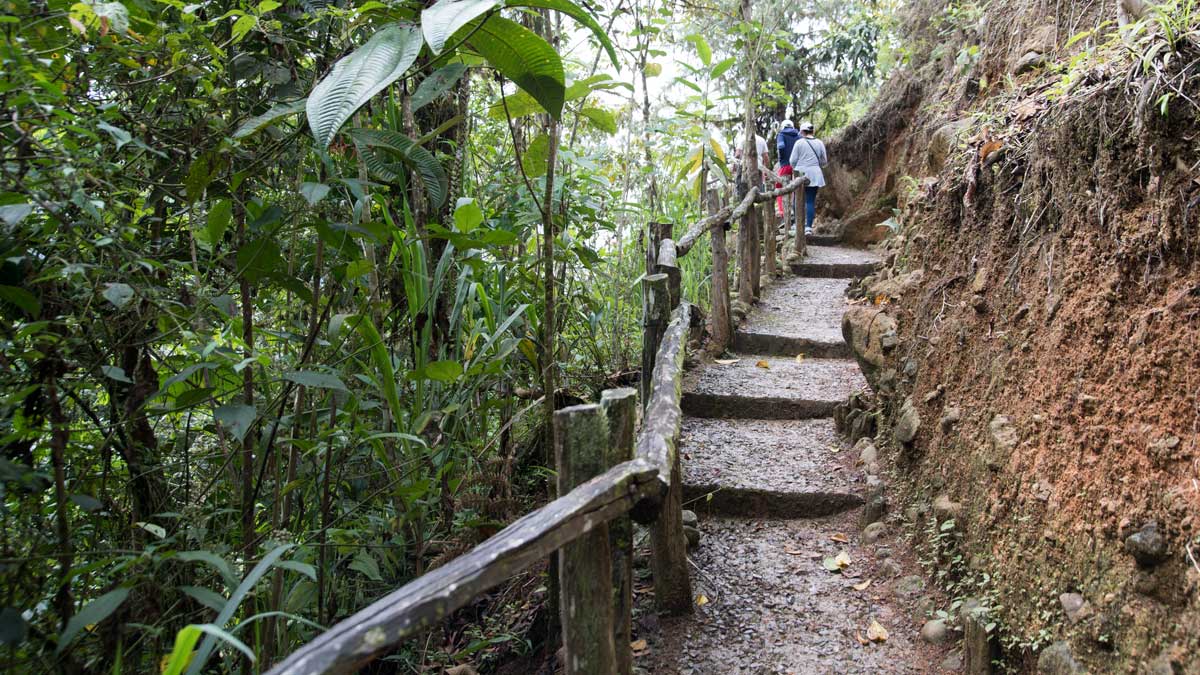 We did see lots of hummingbirds along the trail! It made for several opportunities to observe these birds in their natural habitat, no sugar feeder required. On both visits, we watched a puffed-up Brown Inca preen in the sunshine, its soft feathers blowing gently in the breeze. Several stunning Violet-tailed Sylphs sipped at native flowering plants. And the Baron's Hermit, sometimes referred to as a Long-billed Hermit, observed the trail from on high. We hoped to catch a glimpse of the White-tipped Sicklebill, a bizarre looking hummingbird with a beak designed to enter curved-shaped flowers. Alas, it never appeared. We have reason to visit yet again!
With so many active birds, it was hard to know where to focus. We saw at a dozen species and possibly more. Besides the ones we mentioned above, there were also Speckled Hummingbirds, White-necked Jacobins, Long-billed Starthroats, Brown-Incas, Green-crowed Brilliants, Fawn-breasted Brilliants, Andean Emeralds, Booted-rackettails, Velvet-breasted Coronets, and Green Thorntails. A plethora of hummingbirds!
While I very much enjoyed having this space all to ourselves, I found a special joy in watching Ecuadorian visitors. On our first time to the garden, we arrived just after a busload of local tourists. Grandmas to grandchildren pointed and exclaimed with joy at each new bird they saw. Several people wanted to make sure we didn't miss their «favorite» bird and would ask if we had taken photos of it. They were thrilled to see foreign visitors enjoying the hummingbirds of Ecuador. They all wanted us to tell our friends! Little did they know that we would do exactly that!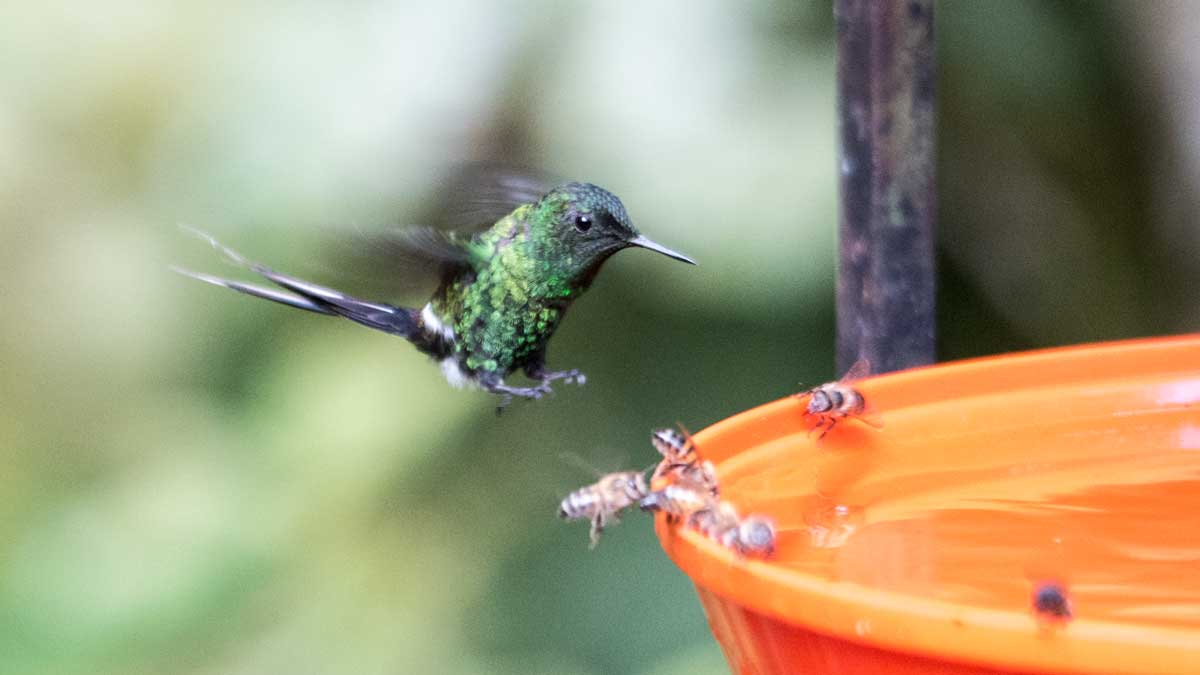 Information on How To Visit the Buenaventura Hummingbird Garden
Because so many of you will be visiting from a distance, we highly recommend making arrangements with Jocotours before you arrive. While the reserve gates are open most days, this is a small establishment that relies on only a couple of employees. It would be a huge disappointment to arrive and find the gates locked. 
Entrance fee is minimal. Locals pay $3 per person. International visitors pay $15. Yes, it is a big difference but when you take into account that the minimum wage in Ecuador is under $400 per month, it makes sense. If you are staying at the Umbrellabird Lodge already, the entrance fee is already part of the package. 
For Photographers
Last but not least, a note for photographers. The forest setting along the riverbank is perfect for muted backgrounds. The native vegetation provides perches and flowers for easy to shoot, natural looking shots. I managed without a tripod and consistently shot using ISO 1250. I could imagine that a less sunny day would require a higher ISO or a tripod to get the best shots. Honestly, the hardest choice will be which direction to aim your camera. With so many birds flying around, the options for great photos are never ending!