There are so many things to do when visiting Isla Santa Cruz that the options often become overwhelming. It makes it easier when you can limit choices to the kinds of activities you enjoy. We love outdoor adventure so this half day trip that combined a kayak to Punta Estrada and a snorkel near the trail head of Playa de los Perros was a perfect addition for our family. It also included a visit to Las Grietas. Though we loved visiting Las Grietas, we did not enjoy the rush of trying to fit three activities into a short afternoon. Sometimes it is too easy to get caught up in the rush of seeing it all.
Kayaking Punta Estrada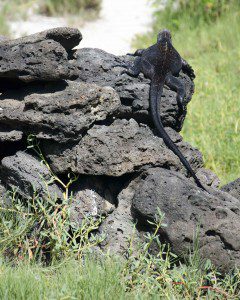 We met our guide and the rest of group at the docks of Puerto Ayora where we grabbed a water taxi to head across the harbor to the exclusive part of the town. It's where the famous Finch Bay Hotel offers some of the most expensive accommodations on the island. It is also the entry point for many other places like Playa Aleman which is a safe beach for children to play in the water and the aforementioned Las Grietas. Even the short walk to Playa Aleman provides photo opportunities as it is a popular nesting site for marine iguanas. Keep your eyes open!
Just past the beach there is a small place to rent kayaks. Ours were already reserved with Galapagos Alternative so it was just a matter of placing gear in dry bags and getting the kayaks in the water. Unfortunately, most of our group had never kayaked so that slowed us down as a group. But those of us that knew what we were doing just took the opportunity to head out into the small bay and kayak alongside a lone marine iguana whle we waited.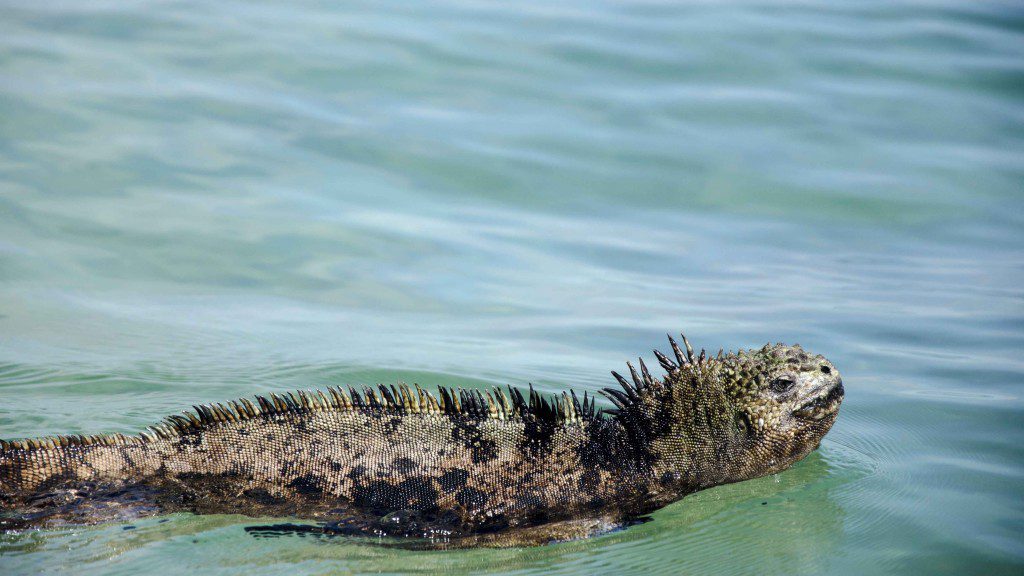 Once everyone was in the water, we were off! We kayaked along the coast towards Punta Estrada where there is a small bay with a few houses along shore and boats anchored in the water. Directly across the bay are cliff walls that make perfect habitat for birds like the Brown Noddy Tern and the Blue-footed Booby. We kayaked along the cliff face and back into a narrow passageway that dead-ended in a tangled mangrove forest. Of course, the water could keep on going and our guide told us that it would eventually arrive in the famous Las Grietas. We were floating on the source of sea water that mixes with the fresh water further inland.
While kayaking, we could often see down into the water, especially where it was shallow with a sandy bottom. We could see sea turtles swim by and it made us all the more anxious to start our snorkeling session.
Snorkeling Punta Estrada
Along this side of the bay is a small dock made for the water taxis to land. It is the trail head to another beach, Playa de los Perros. But the area around the dock is also a great place to snorkel. We tied our kayaks to the dock, donned our snorkel gear, and dove in. The water is very clear but is easily made cloudy by folks who kick up the sandy bottom with their snorkel fins. Try not to do that and you will manage to see much more! The place is a perfect habitat for sea cucumbers and sand dollars. And, on this day, it was a great place to photograph and film sea turtles and a Marbled Ray.
After snorkeling, we kayaked back straight across the bay. We were speed demons because the afternoon was quickly slipping away and we still had
Las Grietas
to explore. I am sure that those with little kayak experience had very sore arms the next day. Remember, when planning your days on the Galapagos, don't over fill them! While visiting these islands is a vacation, it is the kind of vacation that can simply wear you out.