The town of San Agustin is located in the southwest of Colombia at the end of a difficult trip via bus from Popayán. Why did we put our lives in the hands of a bus driver who didn't know how to use his brakes on single lane dirt roads? I put the blame on a New York Times travel article from July 2018 by Elizabeth Zach. In the article, she calls San Agustin the home of some of "South America's most compelling archaeological finds.» However, she fails to provide any details or photos. So, after a few web searches, we were convinced that we needed to visit and off we went.
A unique concentration of Cultures and monumental structures
San Agustín Archaeological Park includes three primary properties, holding the largest concentrations of pre-Columbian burial mounds with megalithic statues in South America. All of the sites date back to the Regional Classic Period (1-900 CE) and were abandoned for unknown reasons around 1350 CE. The park was created in 1931, designated a Colombian National Monument and National Archaeological Park in 1993, and declared a UNESCO World Heritage Site in 1995. Today, the park is overseen by the Colombian Institute of Anthropology and History and consists of the San Agustin Archaeological Park, the Stones Heights Park, and the Idols Heights Park.
More than 200 stone statues and 20 burial mounds are included in the park boundaries. According to UNESCO, these monuments represent:
…an exceptional trajectory of political centralization amidst a rugged environment and without the concentration of economic wealth, and as such are of great scientific and aesthetic importance.
To us, they represent a singular opportunity to experience history where it happened. Below is just an initial summary of what we saw. We plan to do a series with much more detail on each location.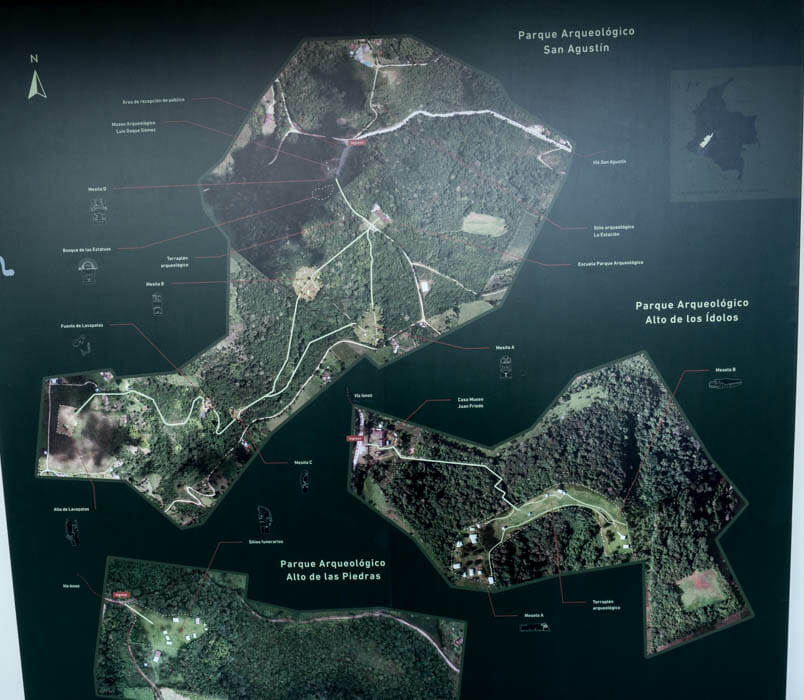 Stones Heights Park (Parque Alto de las Piedras)
The smallest of the parks, Alto de las Piedras, lies approximately five kilometres to the north of the city of San Jose de Isnos. Three tombs are located in a cleared space at the top of a hill which represents a little less than half of the terrain within the park. The remaining area remains fully forested with no additional excavated sites.
Idols Heights Park (Parque Alto de los Idolos)
A much larger site, Parque Alto de los Idolos lies on a ridge overlooking the Magdalena River five kilometers south of the city of San Jose de Isnos. This location includes evidence of significant man-made changes to the terrain during the construction of the monuments and tombs, resulting in a half-moon or bull-horn shaped (depending on one's interpretation) ceremonial area. There is also a small museum at the park entrance, which was closed the day we visited.
Alto de los Idolos has the tallest example of excavated statuary in the park, towering more than 21 feet tall.
San Agustín Archeological Park (Parque Arqueológico San Agustín)
The largest park, Parque Arqueológico San Agustin, lies three kilometres to the west of the city of San Agustin. This is a huge site with three main burial mound areas holding dozens of statues, a fourth tomb isolated on a hilltop far from the others, a "statue forest" with examples from the entire San Agustin region, and a ceremonial site carved into a hillside. The latter is unique in that the builders diverted a small river which stills runs through the different carvings, creating a unique ceremonial area.
The projected time to visit this park was two to three hours. We spent the entire day, eight hours in total, exploring and photographing these impressive cultural remains.
But wait! There's more to explore.
We visited four other archaeological sites not a part of the San Agustin park. These sites included La Chaquira, a petroglyph overlooking the Magdalena River, El Tablon, La Pelota, and a collection of tombs discovered in 1984 under the main square in the town of Obando. The statues at La Pelota were some of the most impressive we saw during our visit. These other sites also gave us a real appreciation of what may still lie undiscovered under the hills of this region.