Gateway to the Colca Canyon, twice the depth of the Grand Canyon and home to the giant Andean Condor, Chivay is a town of around 5000 inhabitants on the bank of the Colca River. It looks little affected by tourism.
Arriving in Chivay, Peru
What strikes me first as we drive into town is the cacti growing along the top of the seemingly 10-foot high earthen walls. They surround bare, brown dirt yards where grey and crumbling adobe homes stand. I wonder, are the cacti to keep intruders out or for a bit of color? There doesn't appear to be a lot to safeguard. Rocks hold down corrugated iron roofs. Weather-beaten doors are rusting. Chunks of plaster are missing or paint-faded from the modern concrete buildings.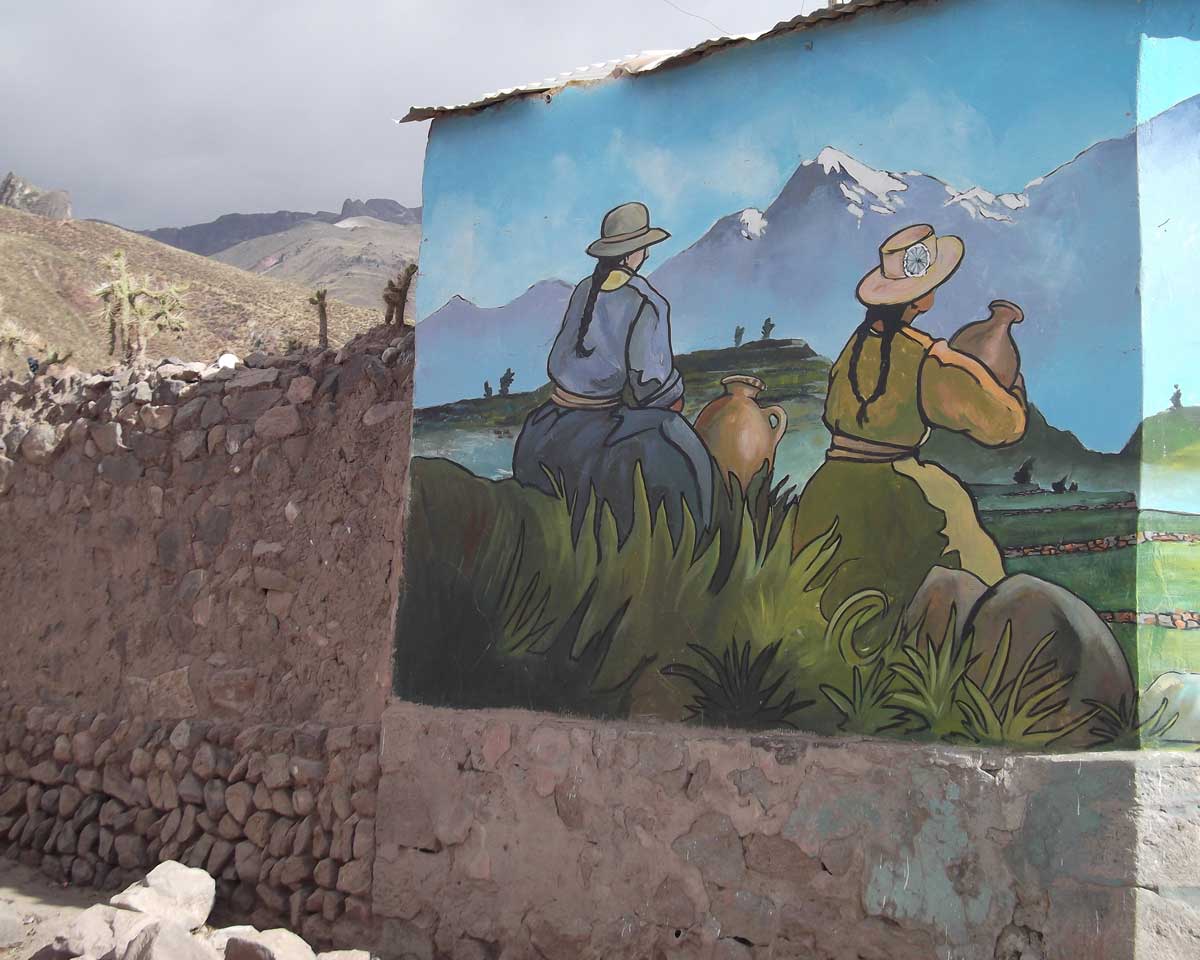 Walking Tour of Chivay
I stroll up the wide pedestrian, concreted Avenida Salaverry, dirt roads just around the corner. Colorful figures around two meters high dot the way. Brass plaques on the plinths bear Spanish and poorly translated English descriptions which are confusing. I later discover the thirteen figures depict traditional folk dances of the region. An Andean woman, her skirt mid-twirl, dances the Sara Tarpuy performed at harvest time. A man wearing a conical hat decorated with silver-colored plates represents the enslaved Africans who mined ore in the region. A native Peruvian wears a horned mask and holds a weasel-looking animal portraying the ancient trade between the upper valley and the Pacific coast. 
A woman passes who could have stepped off one of the plinths. She wears an embroidered, scarlet, shin-length skirt. Her white, wide-brimmed hat, decorated with glittery embroidery, sits atop her beautiful, black braided hair. Her traditional outfit is fashioned on the dress of long ago Spanish-colonial women. She carries a load on her back using an emerald green blanket bordered in bright pink. It is tied around her shoulders. A snow-white alpaca, or maybe a llama, trots alongside. Not wanting to be intrusive, I take a photo of her walking away.
Further up Avenida Salaverry, carcasses of animals the alpaca may have been related to are piled on a blanket spilling out onto the street, a hacksaw next to them. There doesn't appear to be any other meat in the shop or any refrigeration.
The Chivay Market Stalls
Indoor and outdoor stalls, taking up a full city block, appear to be Chivay's answer to a supermarket. Fruit, vegetables, meat – including grey bits I don't recognize – and sacks of grains are crammed alongside clothing, DVDs, food stalls (dine at the cart or take away) and plastic 20-liter containers of colored drinks, a myriad of flavors. The stallholders are all women. The younger ones wear caps and jeans, whereas the older women dress more traditionally. All wear felted-wool hats, either white and wide-brimmed or a dark brown bowler. Among the alpaca wool garments, woven blankets, and wall hangings, a woman embroiders cloth using an early 20th Century sewing machine.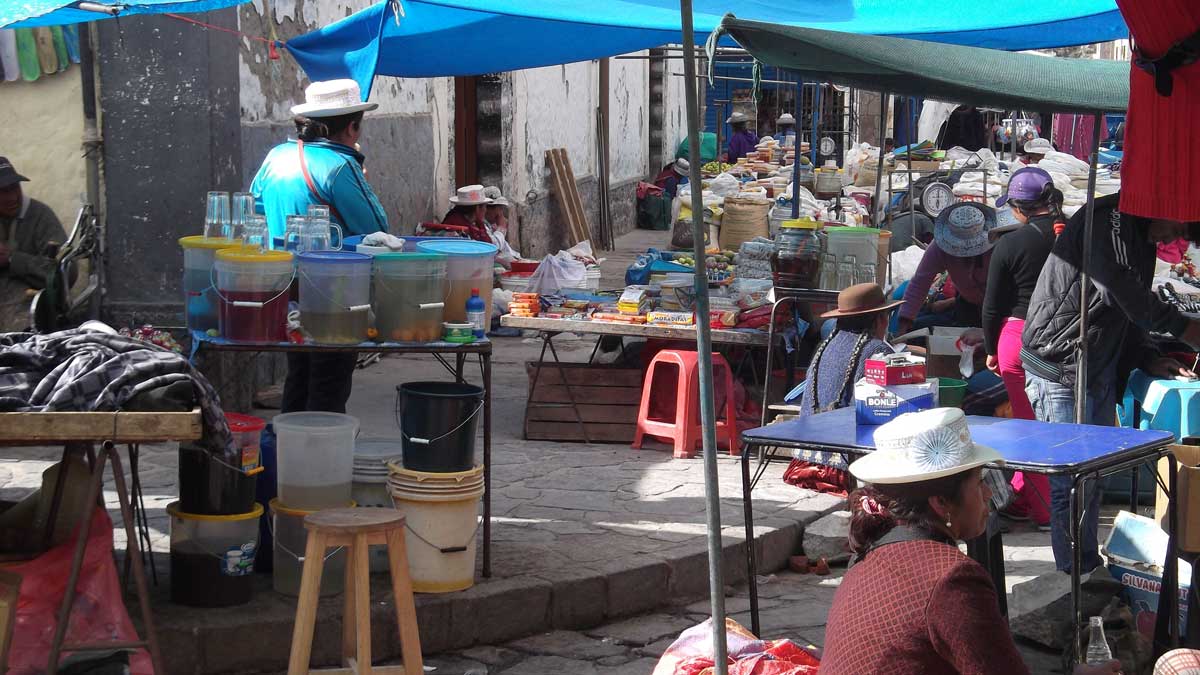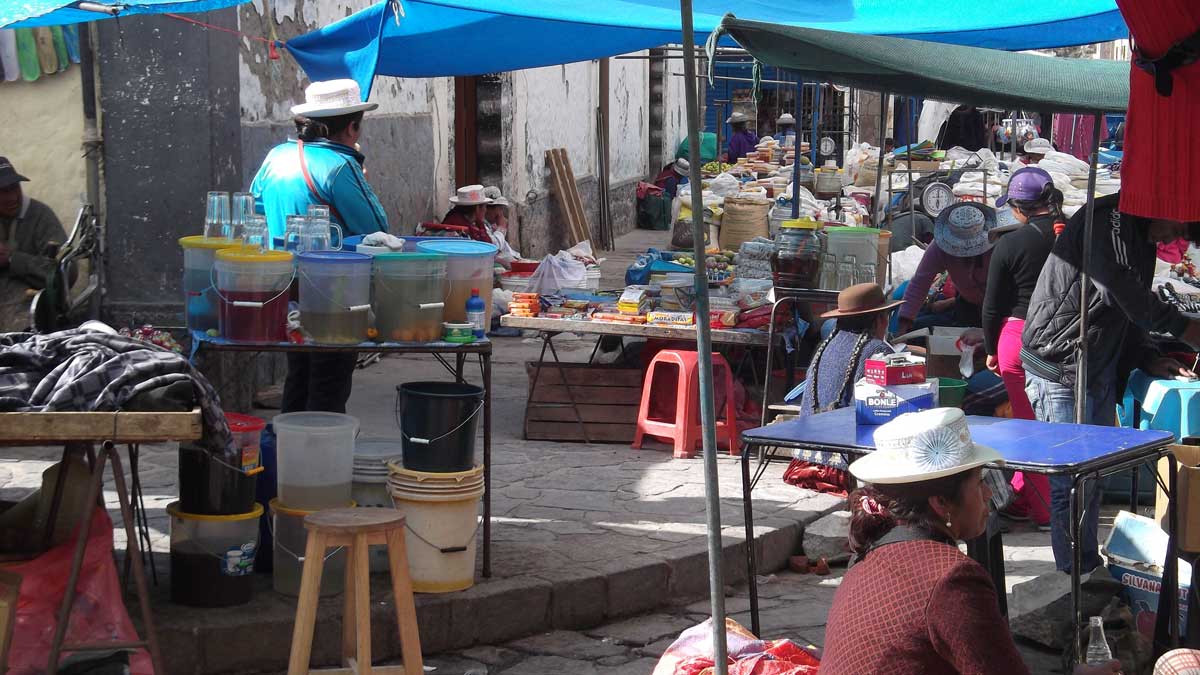 Plaza de Armas, Chivay
Through a timeworn, brown brick archway, I enter the Plaza de Armas. Three-wheeled moto-taxis buzz along the roads bordering it. They look like something from 'Pimp My Ride', brightly colored and emblazoned with characters and patterns. How do drivers safely maneuver these vehicles when it rains on the soft plastic windscreens?
The 18th Century, double bell-towered Church of Our Lady of the Assumption dominates the square. Above it, on a distant mountainside, a huge cross is marked out in the greyish-green vegetation.
The Church of Our Lady of the Assumption
Inside the silent church, I'm surprised by the contrast to its simple, white Spanish-style exterior. White ceiling and upper walls, and the black and white tiled floor are lost in the gaudiness of a pale blue altar wall, green nave walls and an abundance of pastel pinks, blues, and greens on the painted swags, pillars and sculptures.
Doll-sized saints in alcoves abound – a conquistador, a pale Andean woman in colonial Spanish dress, Jesus wearing a blue cloth around his lower half amongst them. To my eyes, it resembles a doll museum or ornate puppet theatre. The nativity scene – it's nearly Christmas – has plastic toy animals and Lego palm trees surrounding the manger. It kind of sums up Chivay: a bit traditional, a bit modern. 
Back out in the square, a distant volcano has a plume of white smoke hanging like a low cloud above its peak. Nobody seems worried. How many civilizations have witnessed that sight?
Food in Chivay
Evening in Chivay brings people flocking to the outdoor food stalls. On Calle Miguel Grau I dodge beeping moto-taxis and get bumped and jostled by passersby when I stop to purchase a skewer of sizzling meat cooked over gas-fueled flames for a single Peruvian Sol.
Possibly, it's alpaca, a boiled potato skewered on the end. It's tasty but I'm craving vegetables. I step into a restaurant where locals are eating. The bright red walls add warmth to the night. I nod to whatever the waitress is offering, my Spanish pitiful. There seems to be a set menu, every table has the same food upon it. I leave the chicken claw which reaches out of the soup full of pasta and potato. The main meal is a carbo overload of rice, pasta, potato, peas, and carrots. I can't finish it.
Thankfully, the dessert is light. Possibly made from purple corn, it's a very sweet, runny, grape-colored, jelly-like dish. Possibly it has stewed apple in it. I sip the coca tea in the hope it helps alleviate my shortness of breath, brought on by the altitude of nearly 12,000 feet. It was a basic dinner, probably the sort that has been eaten around this area for centuries. And only 7.50 Sol!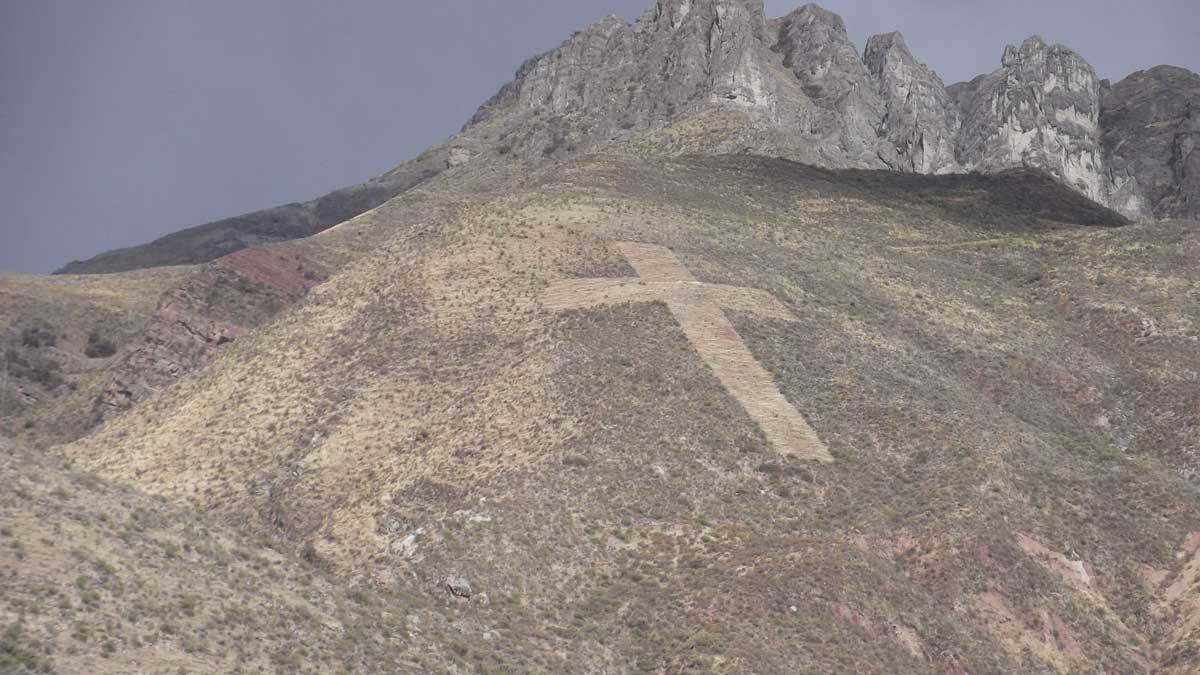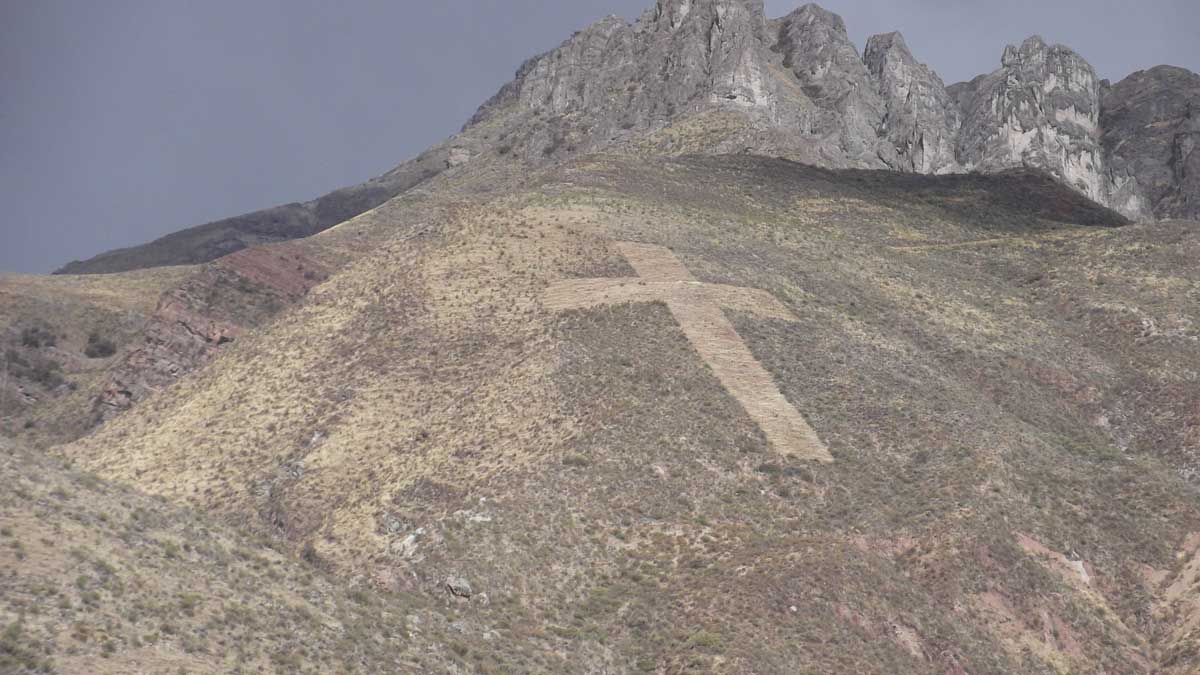 Outside, the December air is colder. I walk briskly to McElroy's Irish Pub on the Plaza de Armas and step into the warmth. This is possibly one of Chivay's few concessions to international tourism. There's definitely no Peruvian cultural traditions in the bar… except maybe the Pisco.