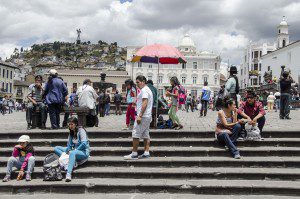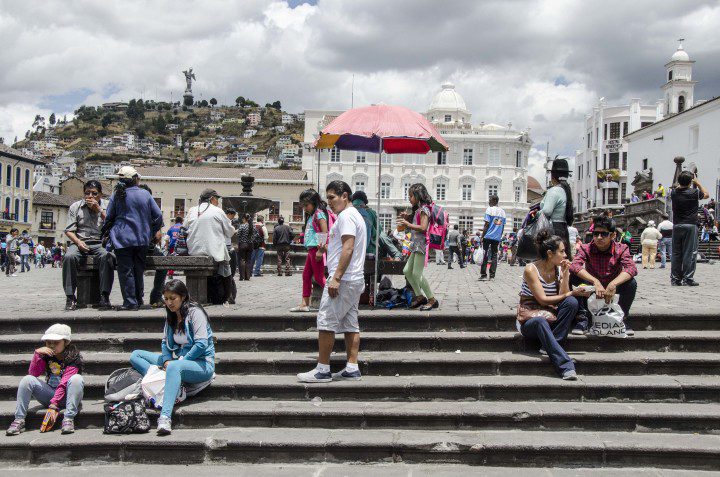 Good news – life is normal in the heart of historic Quito, even during a yellow alert. Despite the ash-emitting Cotopaxi, the plaza at the Iglesia de San Francisco was full of Quiteños and foreign tourists simply enjoying the day this past Sunday. It didn't seem unlike other Sundays in the Historic Center.

When we arrived, a local band was playing musica nacional, the popular tunes that are iconic to Quito and much of the surrounding Sierra. A few local women started to dance, their bodies bouncing and feet shuffling as the beat of the music permeated the plaza. As is typical, people were sitting on the steps in front of the church taking part in people watching, others lounged by the flock of pigeons that periodically take flight information and cruise around the plaza, more were enjoying bars of ice cream or espumilla, a type of meringue mixed with fruit served atop a cone. Tourists snapped pictures, made plans to go to lunch, and sat at the outside cafe enjoying a drink. Even the double-decker tourist bus was still making its rounds.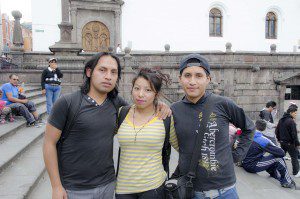 Families were in abundance and most seemed to be shopping for the beginning of the school year. The street vendors were doing a rapid business selling shoes and clothes and any office supply store was full of little children holding their parent's hands. Some students are already back at school, including a young lady and her two friends who asked if they could interview my husband and me. The three are studying graphic design at a local university while also taking courses in English. The young woman, Vanessa, used a small cheat sheet to ask us several questions in English while her friend, Alberto, filmed the interview with his camera. Carlos gave moral support. The three seemed unconcerned that a volcano was threatening to erupt a mere 35 miles away. After all, normal life must take precedence.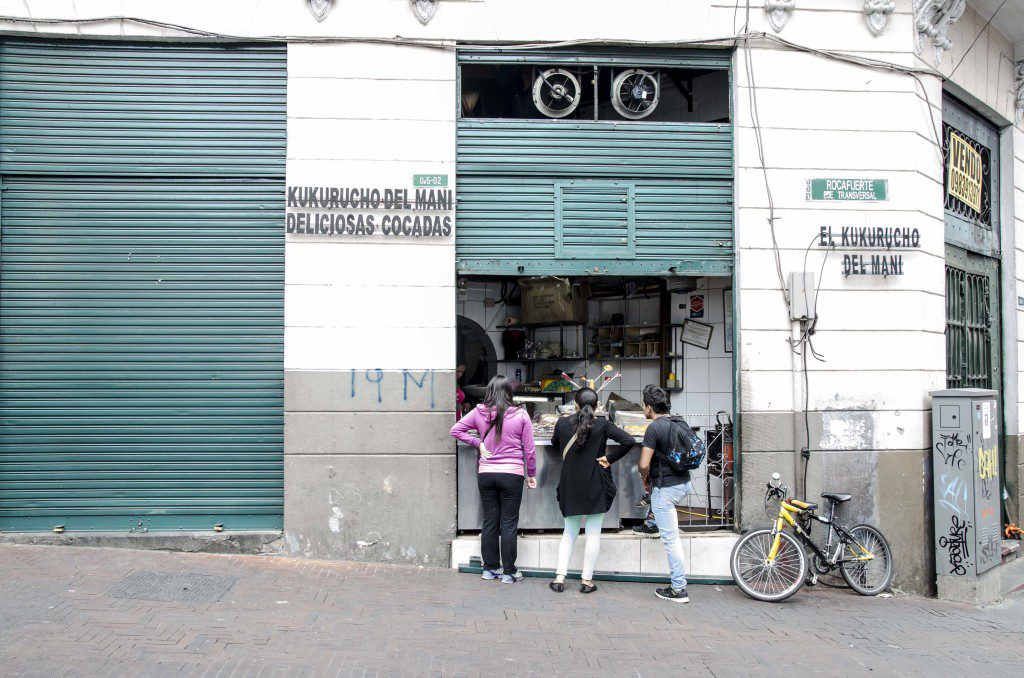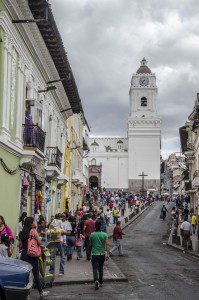 In fact, no one seemed concerned. We asked a restaurant owner in the neighborhood of La Ronda if he was concerned about tourism to the area and he told us that the majority of his customers are local so he wasn't too worried. He then looked up at the clear plexiglass roof and revised his answer. He said it was already a pretty constant job to keep the clear roof clean and that if ash fell more heavily the job would become more than an annoyance. But he did not fear that his restaurant would have to close.
Later this week, I'll bring you an article with more details on how to travel in Ecuador during a yellow alert. In the meantime, don't cancel your trips. There is plenty to see and do. Just act like the locals and enjoy what each day brings.