I am the first to admit that I wasn't so sure about trying cuy for the first time. In fact, I chickened out and let my husband order it at a restaurant and had a mere nibble of his. And, at the time, I decided that the stewed cuy on his plate, a specialty in Cusco, Peru, was not to my liking. After all, the tiny bones only made it clearer that I was eating a guinea pig.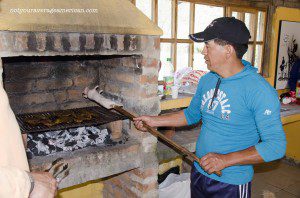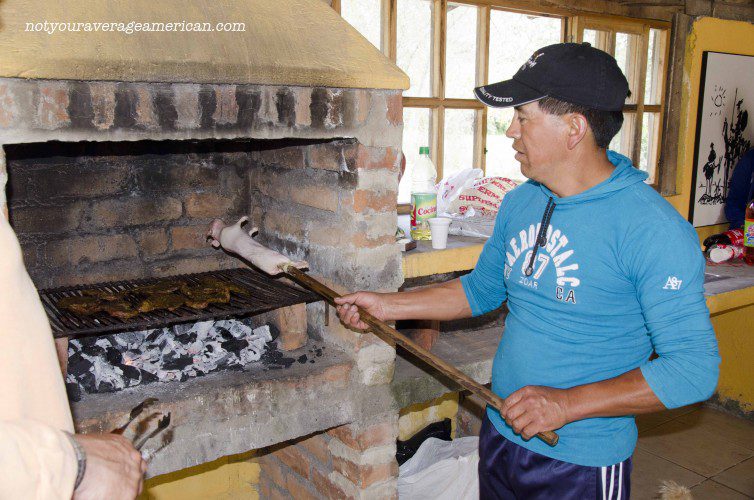 Fast forward to Ecuador where we have been offered cuy in two different local homes. I've learned to look past the tiny paws and the gruesome teeth and actually try the meat which is generally the consistency of the dark meat on a chicken thigh. Its flavor is more like rabbit. It can be chewy or tender depending on how quickly it is cooked. Slower seems to be best.
If you are ever offered cuy by an Ecuadorian, consider it a compliment. The meat is expensive and in a restaurant, you can expect to pay anywhere from $15 to $30 a plate for a whole guinea pig. And that $15 is not at a restaurant that caters to foreign tourists but to locals. That's an expensive dish in a country where a lunch special runs $2.50. Cuy is generally saved for special occasions, like birthdays and holidays.
Recently, a visiting friend decided to take the plunge and try this Ecuadorian delicacy. Yes, it is a delicacy and as much as many of us cringe at eating a potential pet, we should remember that cuy has been a part of South American diets since before the arrival of Christopher Columbus to the New World. Its ties to Andean culture are strong. Andeans no more see cuy as a pet than we imagine having a pig in the living room (yes, there are exceptions in both cases, but they are rare).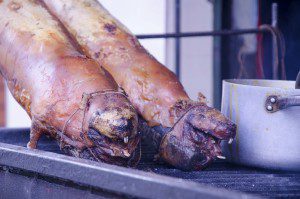 To be honest, I did not have high hopes for a fine dining experience when my friend asked about trying cuy. But I did know that I didn't want to head to the cuy shacks over by Mitad del Mundo. They are a foreign tourist mecca and I was afraid we would get overcharged and served only fair examples of the dish. So we headed to another place famous for cuy, Selva Alegre. This small neighborhood can be found just south of the traffic circle El Colobrí in San Rafael. Selva Alegre is the gateway to the waterfalls of the Rio Pita. They have a one-way road entering the town and along both sides are restaurants dedicated to roasting cuy over a charcoal fire. We had no idea which one to chose but as we had driven by in the early morning, before hiking the waterfall at Rumibosque, we had an idea. We would not go anywhere that still had the same cuy on display as our morning drive-by. As this was a mid-week trip with few customers in the neighborhood, that knocked out most of the restaurants. Our second deciding factor was that the restaurant had to offer half-a-cuy on a plate. Even our intrepid visitor wasn't ready to tackle a whole guinea pig.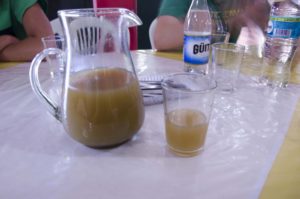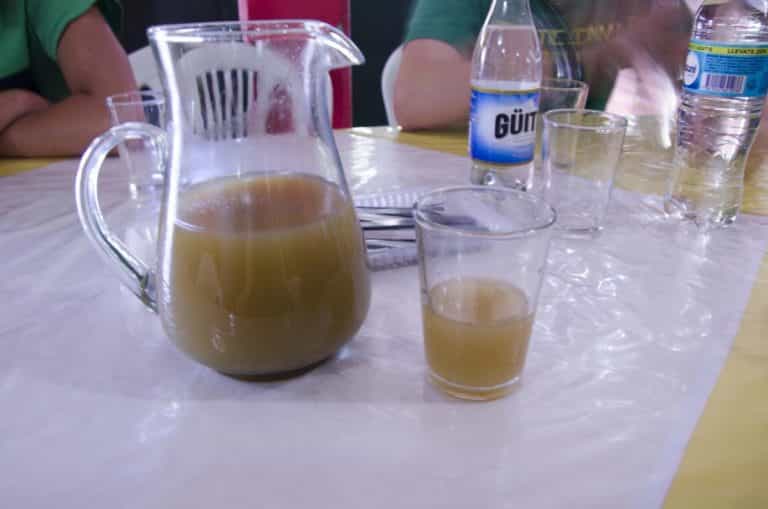 And that's how we found El Cariucho Comida Típica (formally known as La Sazon de Mamá María). The chef was grilling both guinea pig and chicken in full view of the street and it was clear that he was just barely keeping up with business. Inside the restaurant, the proof was definite: tables full of locals eating cuy and drinking chicha de jora, a local refreshment made from corn, sweetened with panela (sugar cane), and flavored with spices like cinnamon and herbs like lemon verbena. If the guys that live nearby are eating at the restaurant, it's a good sign that the food is tasty.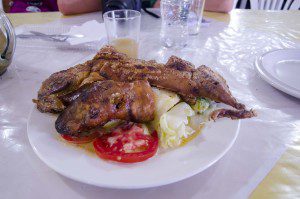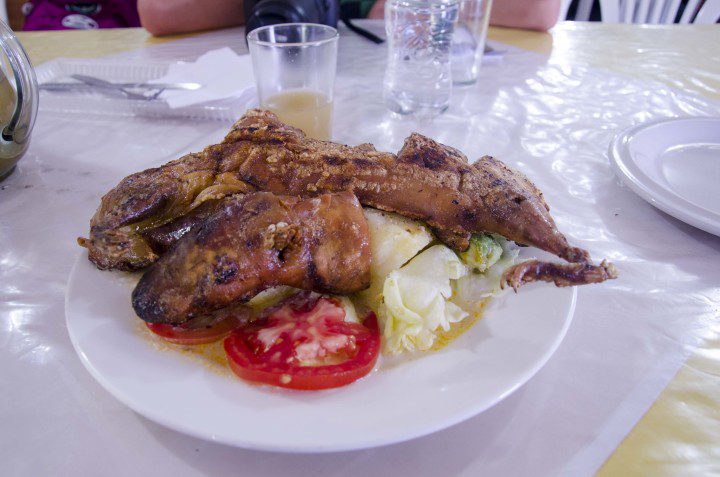 I don't know what got into me but the moment caught me off guard. People were digging into grilled guinea pig like it was fried chicken. I have rarely seen people loving their food like this. So I bit the bullet and ordered a whole cuy. Even at the time, I wondered if I was just taking this a little too seriously. After all, my other experiences eating this little rat-like creature were not high on my list of must-repeat meals. And then my plate arrived, a gorgeously browned, crispy skinned cuy lay on a bed of steamed golden potatoes drenched in homemade peanut sauce and garnished with side-salad of fresh lettuce and sliced ripe tomatoes. Once I moved the guinea pig's head to the side, the rest was easy. Just eat. And eat I did, every delicious bite.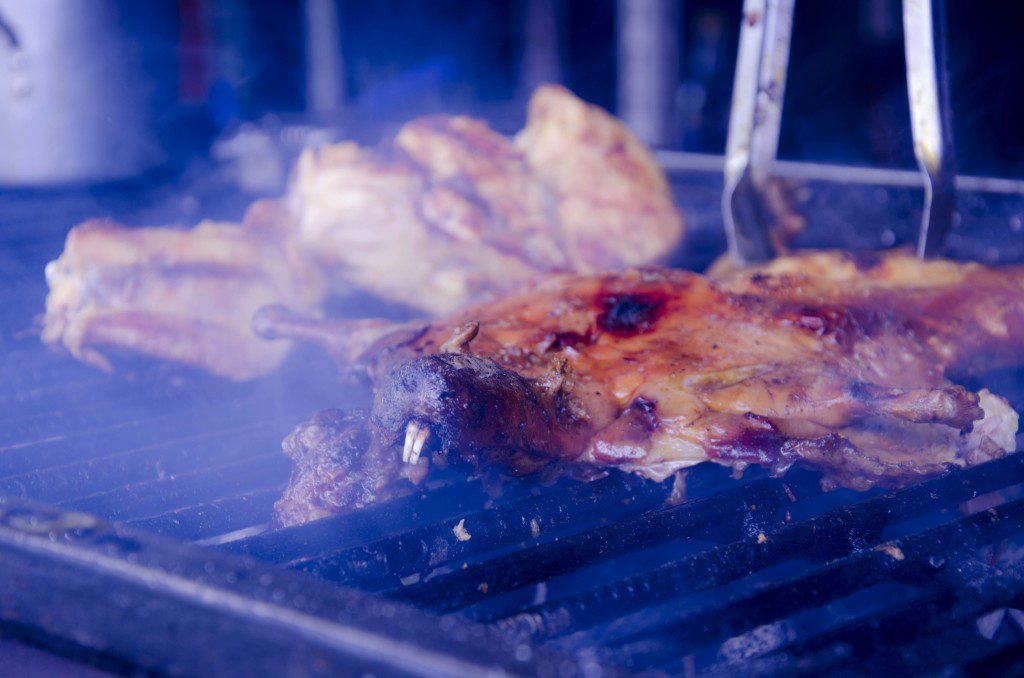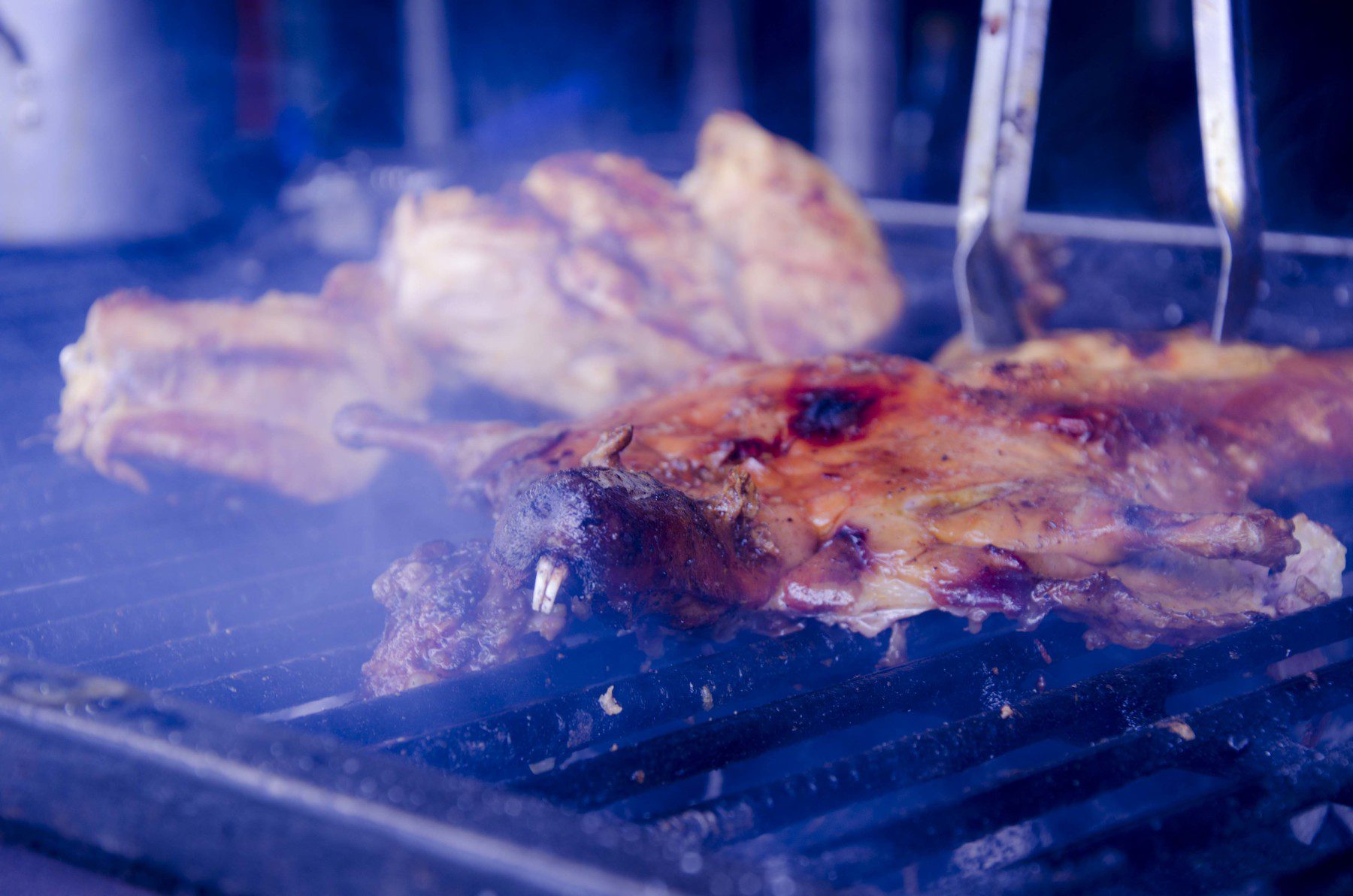 I learned our chef, Enrique, has spent several years honing his skill at grilling guinea pig. It isn't that he grills on a wooden post that looks like a broomstick. Everyone on the street uses that same technique. It is the finishing where he splits the cuy and then finishes grilling with a couple of special sauces – one that makes for an extra crispy skin and another that keeps the meat moist and tender. His actual recipe is a secret.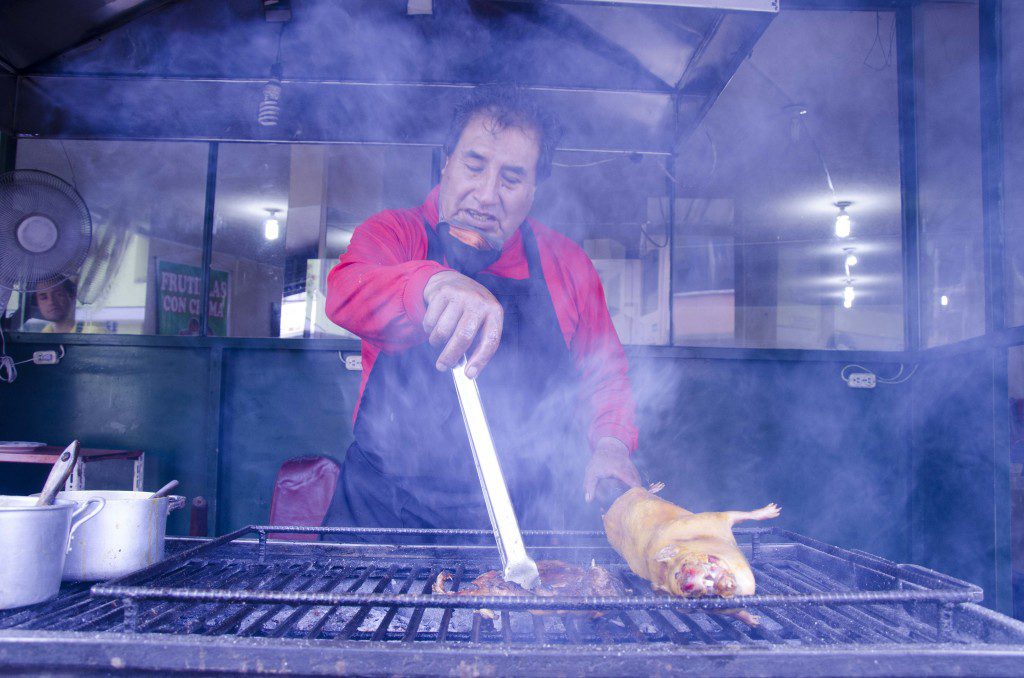 Unfortunately, since my last visit to Selva Alegre, a national emergency has been declared and the town is the danger zone of potential lahar flow from the Volcano Cotopaxi. I recently spoke with Enrique's son, Miguel, to see what business has been like. Although the restaurant is open, many of the other businesses along the same street have closed and their owners have left town. Miguel's father can't afford to do that – he has bills to pay even though a volcano is threatening to erupt.
If you hear of any potential solutions for small businesses that are struggling during this yellow alert, please leave us a comment below or contact me via email at angiedrake@hotmail.
And if you decide a great guinea pig lunch is worth driving into the valley, Miguel and Enrique are waiting for your business. You can ask for a reservation using this email address, elcariucho05@gmail.com. Or look for the restaurant on the right hand side of Francisco Guarderas near the intersection of Nicolás Peña.
El Cariucho Comida Típica
Information For Your Trip
type in basic info here
Direction by Car, use WAZE and look for Francisco Guarderas in Sangolquí, Ecuador. The restaurant is on the right-hand side of the road near the cross with Nicolás Peña.
Direction by Public Transportation Buses from Quito to Sangolquí run often. In some instances, it would be best to get the bus towards Valle de los Chillos and ask for connections to Selva Alegre. Or to arrive in Valle de los Chillos and hire a taxi.