Next to the hummingbird feeders are two platforms that hold bananas. These feeders attract colorful birds like the tanagers and honeycreepers as well as larger species like the Speckled Chachalaca and the Sickle-winged Guan. These later two are somewhat like our wild-turkeys in the United States. 
However, the most surprising visitor was a non-bird species – the Ring-tailed Coati, a long-nosed, thick-tailed mammal with reddish fur and an inquisitive face. He came to snatch bananas one evening and decided to make a return visit for breakfast the next morning. Supposedly this gorgeous animal is a regular visit and has been lovingly named Juan Jose. He made for a very patient subject but I made sure not to get to close. Just check out those long claws and sharp teeth in the pictures below!
The Gardens at Copalinga
About 90% of Copalinga remains primary or secondary forest. But the main grounds around the lodge are gardens and recovered farmland. The gardens include several fruiting trees which attract fruit eaters like parrots, toucans, and aracari. We arrived just before the guabas were fully ripe but we did see a pair of White-necked Parakeets that were testing out the yet ripe fruit. We also saw Crested Oropendola, Paradise Tanagers, and the common but striking Blue and Gray Tanagers with their white-barred wings. Lucky visitors who show up when the trees are in full fruit may also get to see Capuchin Monkeys coming to feast on the ripe crop.
The pathways along the gardens leading to the cabins are lined with the prolific purple-flowering verbena, a hummingbird magnet. There we were able to spot the Violet-headed Hummingbird, the Sparkling Violetear, and the Golden-tailed Sapphire. Rumor has it that the Spangled Coquette frequents these flowers in the right season.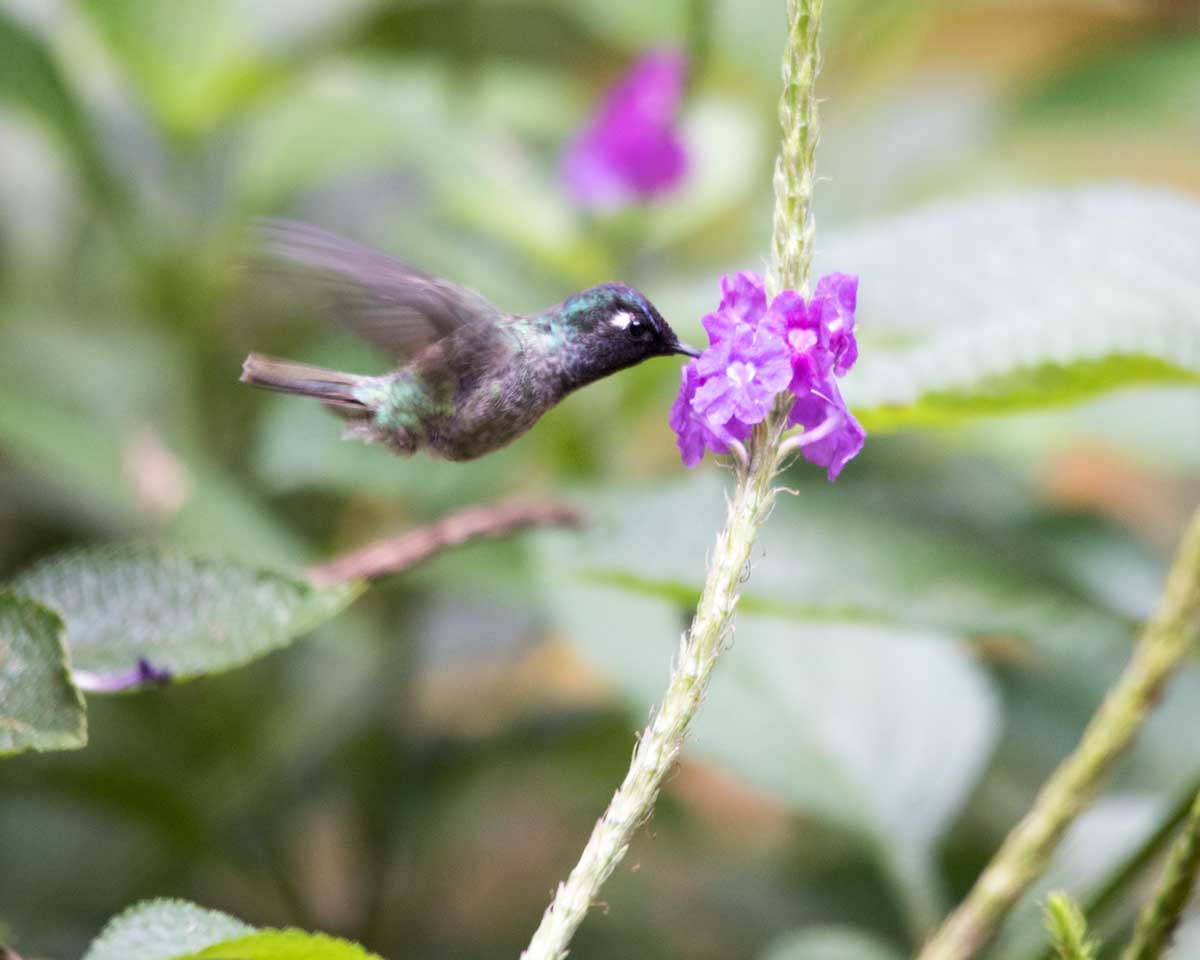 The gardens also include a small collection of native orchids. I searched carefully among the leaves as many of the best orchids are tiny and well hidden. No matter the time of year, at least a couple of species will be in bloom. However, depending on the amount of rainfall from December through March, most orchids bloom in April and May. A little higher up in Podocarpus National Park, where they have a larger orchid garden, the park ranger told us that the best months are May and June. If I was an orchid-lover extraordinaire, I would plan my trip for May!
The Trails at Copalinga
There are several good hiking trails at Copalinga. We were happy to find a trail map and trail descriptions in our cabin. That made it easier for us to plan our days. We were grateful not to have to wear rain boots, as is often recommended in Ecuador. Our hiking boots managed the trails perfectly well.
We spent one morning hiking the Blue Trail before breakfast. Although we heard many birds, the dim morning light made it difficult to spot them in the tree canopy. Fellow visitors hiked this same trail in the afternoon and saw several great birds, all without a guide. 
Our favorite trail ended up being the Orange Trail. We loved that as the trail climbed, we looked out into the tree canopy at birds dancing among the branches. We really appreciated the bench a little ways up the trail just past the last cabins. It made for a great place to listen to birdsong.
Each evening, this trail closes as the staff places dried corn to attract the Gray Tinamou. This bird is usually very difficult to see. However, at Copalinga, it almost always comes to enjoy the free meal. Photographers and birdwatchers wait behind a wooden blind and watch this butterball of a ground bird peck at strewn seed. On our visit, she was accompanied by her latest brood, three well-fledged chicks, one who was brave enough to walk right up to the blind. We thought he might come around the corner but he seemed wary enough to avoid going that far!
The same feeder also attracts the Orange-billed Sparrow, the White-tipped Dove, and the raucous Green Jay, one of my favorite birds in all of Ecuador. Sometimes called the Inca Jay, this colorful bird has striking bright blue feathers that stand out on his his black face and a stunning gold body with olive green wings and tail. Surprisingly, he is fairly well-camouflaged in the dense forests so it was a pleasure to photograph him coming to check out the corn.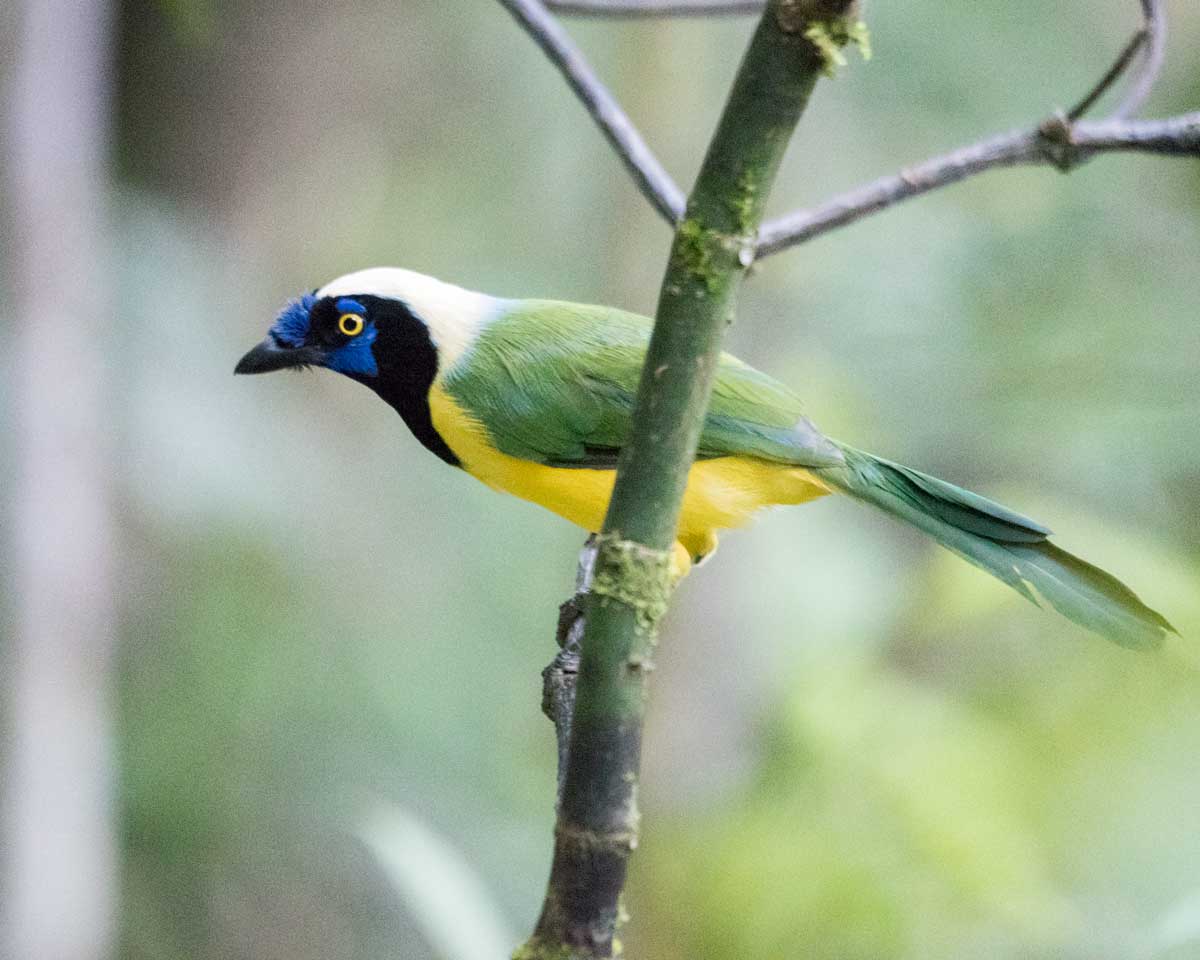 On our next visit, we hope to hike more trails and see more birds. In fact, we think arriving August through September will increase the likelihood of seeing more hummingbirds. We will also shoot to visit Monday through Friday so that we can take advantage of Walter's knowledge about the trails and birds. Several other visitors told us of how helpful he was in making their stay a good one.
Location of the Copalinga Lodge and Reserve
To get to Copalinga, you first need to be in Southern Ecuador. We recommend either Cuenca or Catamayo as a starting point. Although there is a small airport in Zamora, it is no longer used on a regular basis. It is easy to arrange for a driver through Jocotours from either location or to rent a car if you are comfortable driving in Ecuador. 
From Cuenca, the drive is approximately 5 hours if you take the route through Saraguro to Loja to Zamora. If you decide to take the road across the mountain via Sigsig to the E45, be warned that the paved road is incomplete. We traveled that highway and shared a single-lane gravel road across a high mountain pass with oncoming traffic. We obviously made the trip okay but it was a harrowing driving experience that we cannot recommend. 
The quickest and easiest route is to fly into Catamayo, the airport about 45 minutes outside of Loja. The trip from Catamayo to Copalinga is about 2.5 hours. Plan on taking more time if the weather is foggy or rainy as this road can be more dangerous in inclement weather.
Copalinga Lodge and Reserve