The day we arrived in Puerto Baquerizo Moreno on the island San Cristóbal in the Galapagos, it was pouring with rain. Of course, it had us immediately worried that our short trip would be hampered by bad weather. Fortunately that wasn't the case. San Cristóbal in September has both rain and shine to offer and we were lucky to have a higher percentage of the latter. And that shine didn't come just from the sun but from the smiles of the people of San Cristóbal, all who live and work on this small island.
In fact, if I had to chose one island on all the Galapagos as the most tourist friendly, San Cristóbal would be it. The community is a small one and although taxis wait to take you to any location, much of the town is walkable. Shop owners sit in front of their stores and offer a hearty Buenas Tardes as you walk by… they are quick to help with directions and to solve small problems. For example, did you know that you can't buy contact lens solution nor a contact lens case at the pharmacy in San Cristóbal but you can find them at the small jewelry and watch store on the corner of the intersection called Los Semáforos? How crazy is that? But how handy it was to find out.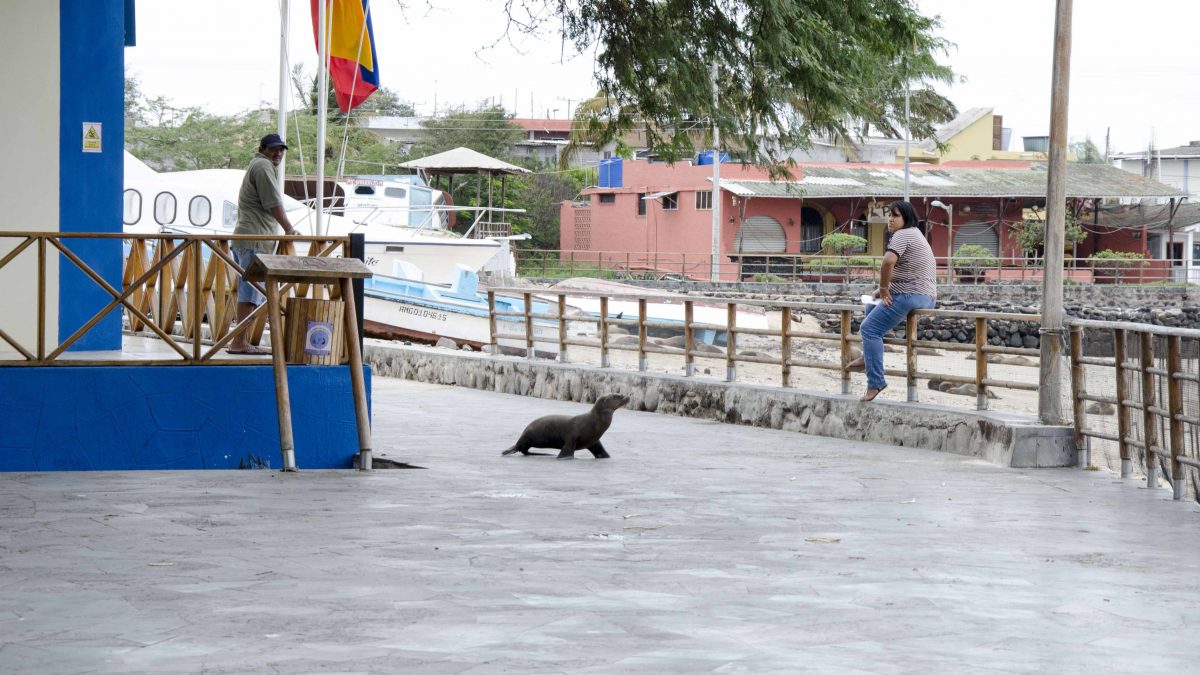 On the way back and forth from our hotel to the malecón or waterfront, we made friends with an elderly gentlemen who watched the world go by from his white plastic chair. On my last day, after having shaken hands and offered cheek kisses practically every morning and afternoon, I asked to take his photo and he immediately smiled and put his hands up to his eyes to mimic binoculars… reminding me that he engaged in his own brand of wildlife watching. His name is Gonzalito and I hope to shake hands with him again upon my return.
We found travel agencies struggle to make trips work, even though the season was not quite right for the trip we were asking for. We found restaurant owners happy to recommend guides and drivers. And have their pictures taken by camera carrying gringos. (Thank you, Mi Grande!). And we found guides that not only wanted to show us the highlights but introduce us to the finer pleasure of island living, like picking your own mandarine oranges.
We found a church open everyday, one simply just had to walk in the door to find a quiet place to pray, to meditate, to escape the rain. The artwork was local, with bible scenes that included animals from the island. It was a gentle reminder of the connection between the people and the wildlife and how important both our to this community in San Cristóbal.
We basically found a community that was willing to work together. Though there must be some competition, it seemed like the vast majority of people just wanted we tourists to be happy. And you can't ask for much more than that.
If you're looking for an port city in the Galapagos to make home base, we highly recommend Puerto Baquerizo Moreno, San Cristobal if only for the friendly community alone.