Remember when you'd watch cartoons as a kid and the characters would end up in the desert trekking towards an oasis? But most of the time the oasis turned out to be a mirage? Well a real-life oasis exists in southern Peru called Huacachina and anyone can visit! And you don't even have to trek through the desert to get there!
Explore the Huacachina oasis
The town is pretty small, about 100 people live there full time, but that makes it easy to get around and explore! Walk around the lagoon and go to some of the restaurants or bars for dinner and drinks. The whole area can be walked in about 30 minutes.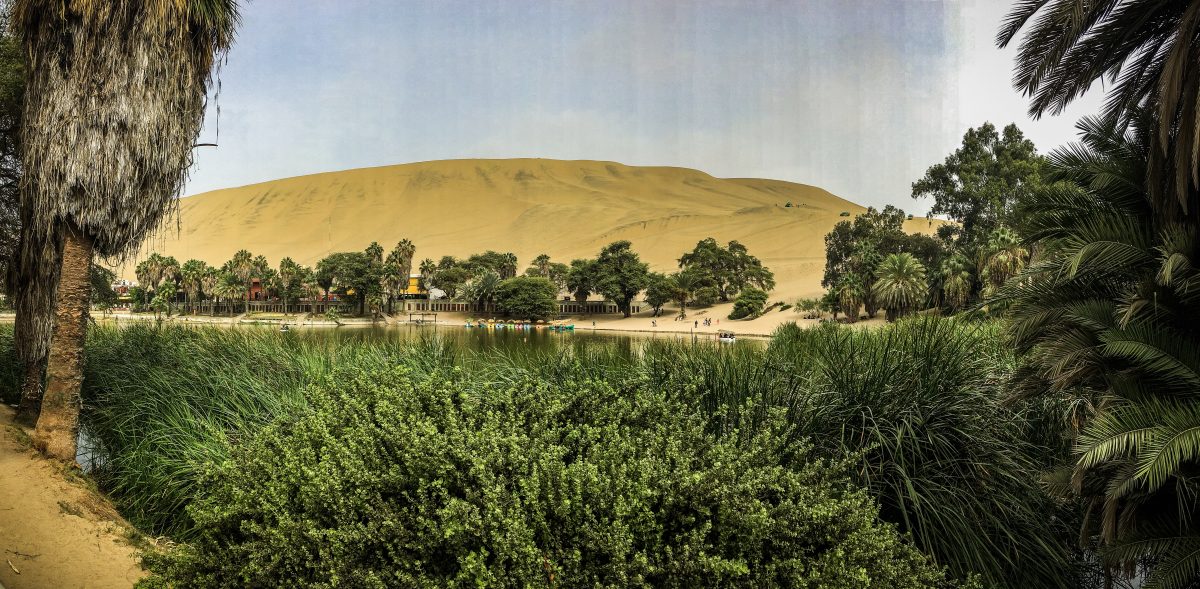 Explore the Huacachina dunes
Grab your backpack and some water and do some hiking up the dunes to see the town from afar. Just like running on the beach, hiking in sand is a tough workout! Make sure to bring lots of water, a hat, and sunscreen. Bring a little picnic and enjoy the view.
Sandboards and dune buggies
Perhaps the most popular reason to visit Huacachina is to try sandboarding. Finding a sandboarding company is very easy since they are all over the town. Many hotels and hostels have their own sandboarding company and you can book a tour with them once you arrive. Most trips will start with a dune buggy ride up and down the dunes at an alarming speed. If you don't like roller coasters or going super-fast this is not for you. The guides are trying to freak everyone out. Make sure you fasten your seat belt.
The guides will take you to the top of several dunes to board down the dunes. You can stand and board down, much like you would on snow, or if you can lay on your stomach on the board and then use your feet to push off! Down the hill you will go! If you are going too fast or want to stop, dig your feet into the sand behind you and spread your legs. This will slow you down. If you can, schedule a 4:30 pm tour so you can catch the sunset as you return to the oasis.
Additionally, you'll want to wear close-toed shoes like old sneakers, and bring a phone and camera protector. Prepare for sand to get everywhere, and I do mean everywhere.
Chill by the Huacachina lagoon
Paddle-boats are available to rent to check out the lagoon, but do not swim in the lagoon. Trust me. Even locals will tell you the water is unsafe for swimming. After you are done paddle-boating, find a restaurant with a great view and grab some local BBQ or pisco sours.
Chill at your hotel or hostel
Huacachina has a very laid-back vibe where backpackers who aren't in the dunes are found by the pool or in a hammock just enjoying life. Take your time at Huacachina, it is a place unlike any other!
Bus Terminal; Ica, Peru
Huacachina, Peru
Information For Your Trip
A quick 5 hour bus ride from Lima will take you to nearby Ica and then you can grab a cheap taxi to take you the rest of the way to Huacachina.
Direction by Car, use WAZE and enter Huacachina, Ica, Peru.
Direction by Public Transportation You can try and book your Peru bus trip via the online portal Redbus.